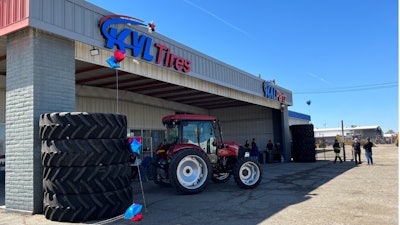 KVL Tires and KAL Partz has opened doors to their new location at 1300 Main Street, Brawley, CA, 92227. The store officially opened with an event on March 3.
The company says the grand opening was a massive success thanks to the many local community members who welcomed the new business with smiles and enjoyed a fun-filled event. Prizes, giveaways from vendors and a BBQ lunch was served, making it an exciting experience.
Some distinguished brands featured at the store included BKT, Continental, Goodyear, Apollo, and Tornado. Representatives from Goodyear, Continental, and BKT also were in attendance as chief guests for the inauguration and were pleased with the grand opening's turnout, the company says.
KVL Tires and KAL Partz also introduced their special introductory scheme for the grand opening, which was a great attraction for customers. Stop by the Brawley location today to learn more.
The company adds a highlight of the event was the massive farm and agriculture tires from BKT. Not only were the customers impressed with the quality and durability of the products, but the size. Many took pictures posing within the tire.
"We are thrilled with the turnout and support we received from the Brawley community," says Roger Negrete, vice president, KVL Tires. "We look forward to serving our customers with quality products and exceptional service."