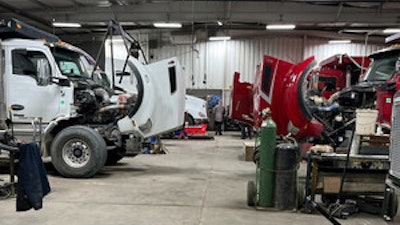 Palmer Trucks will celebrate the grand opening of its third TRP all-makes parts store and commercial truck service shop on Friday, April 14.
The new facility will be located in Fort Wayne, Ind., and will be called TRP of Fort Wayne. Palmer Trucks says the facility will serve the local transportation industry by providing a full line of aftermarket parts for trucks, trailers and buses in addition to truck diagnostics and repair for transient traffic from I-69 south of Fort Wayne.
Fort Wayne General Manager Tracy Meyers says, "We are excited to expand our Northeast Indiana footprint as a trusted source for commercial truck parts and repairs. Having parts on-hand and ready maximizes uptime for owner-operators and fleets, keeping America's goods moving to their final destinations."
TRP of Fort Wayne will be located north of Lower Huntington Road at 7006 Ardmore Ave, Fort Wayne, IN 46809 and open from 7 a.m. to 5 p.m. on weekdays. Local truck drivers and businesses are welcome to join Palmer Trucks for a grand opening event next Friday from 10 a.m. to 2 p.m. A free lunch, giveaways and door prizes will be included, the company says.
[RELATED: ALL-IN Truck Parts opens doors in Indianapolis metro]
Located within a strong industrial corridor on the south side of the city, TRP of Fort Wayne will support small businesses and vocational work truck customers dependent upon truck uptime for on-time deliveries.
"Palmer Trucks is excited to add additional distribution footprint in the Fort Wayne region and make quality parts and repair services more accessible," says Palmer Trucks COO Tom Kapitan.
"We're excited to continue leading the community in commercial vehicle parts with a trusted, reliable and proven product line, complete with local delivery and a repair shop staffed with skilled technicians," adds Meyers.