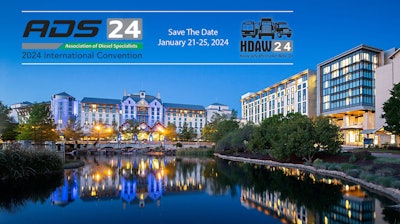 The Association of Diesel Specialists (ADS) has opened registration for its 2024 International Convention, which will be held in January 2024 in Grapevine, Texas, in conjunction with Heavy Duty Aftermarket Week (HDAW) 2024.
ADS is excited to announce this year ADS members who intend to attend both conferences can now register for the ADS event and HDAW at the same time. Previously attendees were required to book registration for both events separately. ADS members who plan to only attend the ADS International Convention can still do so without registering for HDAW.
The ADS International Convention will be held Jan. 21-22, 2024. HDAW will be held Jan. 22-25. All events will take place at the Gaylord Texan resort in Grapevine, Texas. ADS notes members who register early for both events can save. "If you register early, you save $100/registration. If you register for ADS and HDAW, you save at least $450/ADS registration," the organization states.
[RELATED: M&D has acquired Seidel Diesel Group]
Interested parties also can secure sponsorships to the ADS International Convention at this time, and notes Exclusive Sponsorships (where only one is available) are available through 1 p.m. ET, Sept. 20 on a first-come, first-served basis.
For more information about the conventions, and to register, please go to the ADS website.