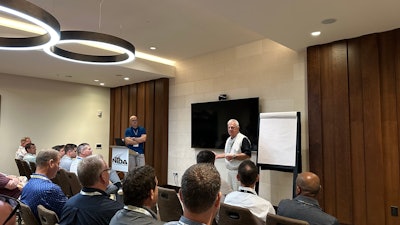 Dealers don't like to give other dealers an edge.
The National Trailer Dealers Association (NTDA) is trying to change that. They hosted at least three sessions at their annual conference at Marco Island, Florida, designed for dealers to share ideas about how to improve some facet of their business.
[RELATED: FTR's Starks says trailer market correction incoming in 2024]
Incoming NTDA President Justin Deputy, CEO of 1580 Utility Trailer in Utah, hosted one such session. He said it was not only an opportunity to learn what works, but for successful dealers to give back to the community.
"It was not without trepidation [that NTDA decided to go forward with the panel], because of competition," he says. But he added he hoped it would become a regular part of the association's conferences.
[RELATED: Finalists announced for our inaugural Trailblazer Award program]
Given the reception, it just might.
Interstate Utility Trailer President Jeff Barber talked about his dealerships's onsite services. The former NTDA board member and chairman said the dealership was looking for ways to increase service revenue when the settled on mobile service for trailers.
The company reached out to distribution centers in the area and offered regular service for the trailers companies left there.
"These fleets really appreciate that because they don't have to pull the trailer," Barber says.
His self-contained techs perform routine service, including roof and door service and more.
"These technicians are higher paid," Barber says. "They're our most experienced technicians because they do a lot."
Starting with five trucks, Interstate has now grown to 23, and the shop's technicians compete for a chance at a truck of their own.
"They make time on everything they do," Barber says. "They are our brightest, smartest guys and they're independent workers."
Despite the cost of outfitting a truck with parts and equipment to perform repairs, Barber says the service is a moneymaker for the company. It charges time and materials and even trains the techs to do their own billing. Each truck is labeled as its own branch through the company's Karmak Fusion software to track revenue, time and parts.
Intermountain Trailer's Travis Johnson has another tech-pleasing tradition — a food truck rally.
Instead of staff flipping burgers or fixing meals to cater to customers, Johnson organized a series of food trucks to come to the shop over six weeks. Attendees can vote for their favorite.
The rally not only gave customers, employees and the public an opportunity to try new food, it also gave Intermountain a look at trucks they could get to work on one day. Along with the rally, Intermountain also hosts a fundraiser to put together school kits for area kids.
One of the best things to come out of the rally isn't the public outreach or the opportunity to interface with potential new customers, but the face time technicians get with their customers. They often seen the trucks, Johnson says, but rarely get to meet the actual customer. Sitting down and having a meal with them puts faces to names for both the techs and the customer.
At Ocean Trailer, Mack Keay and his family started offering rings to personnel that had been there for five years.
For their first award, Ocean gives them a ring with one diamond. Every five years, the company takes the ring back and adds a diamond. As a bonus, for that year, the employee also gets an extra week of vacation.
He said when an employee gets a ring, work stops in the shop. The employee's manager or even one of the owners (Mack's dad and uncle) will bestow the ring.
"It's a personal recognition of someone's effort," he says, and it makes a difference.
Keay pointed to a 2017 employee engagement survey, where Ocean employees ranked the things that made them feel valued at the company. First up was wages, of course, followed by a profit share bonus and benefits. Vacation days came in sixth, and Keay says that revelation lead to the extra week off with the ring.
Wondering what the lowest ranked items were? So were other dealers. They were, Keay says, free snacks, the Christmas party and company outings.
Great Dane of Utah's Jared Nehmer talked about the company's use of Motivosity, a social media application that helps employees motivate each other with the best motivator around — cold, hard cash.
"The easy answer is they want more money," Nehmer said. Motivosity offers that, but it comes with a twist. These bonuses come from your fellow employees. Each account gets $3 per month to award (managers get more, Nehmer says), and employees send each other $1 or more to show appreciation for a colleague's efforts.
"The mechanics are very active on this," Nehmer says. "They're on the their phones anyway, might as well have them thank employees."
Nehmer's shop has been using Motivosity for about nine months, and he says feedback has been positive across the board. It helps, he says, for employees to have contact with with each other without the friction of overlapping duties or the pressure of responsibilities.
Deputy himself made the last presentation, and it was another app that lets employees pull out their phones, but this time to watch a daily safety video.
His locations use Tyfoom to push out a daily safety video with a quiz to every employee.
"There's every topic you can think of," Deputy says.
The videos are incentivized; employees compete to get the highest engagement score. Managers are alerted when employees miss quiz questions or fail to watch a video. The platform also tracks certifications and allows companies to use their own video content if they want to.
In just three months of usage, Deputy says the company's worker's compensation mod rate has decreased, and "I expect that to continue."