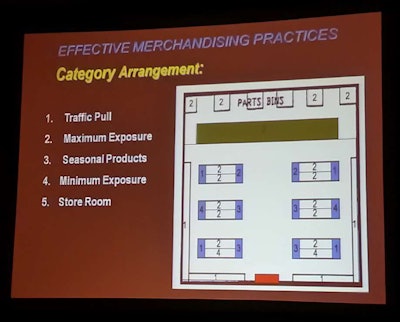 In parts sales it's easy to focus on what's behind the counter.
But spend too much time thinking about what's behind the curtain and you can forget what's right in front of you, says Butch Hill, president at HD Group.
During a brief presentation Friday at the HDA Truck Pride Annual Meeting, Hill offered distributors in attendance simple tips to improving the merchandising and sales of the products on display in your retail area.
Hill says retail layout is the biggest driver to impulse sales. A retail space should be inviting, and encourage customers to explore. He says methods for doing this include placing shelving units (gondolas) at angles that are easily accessible from the entrance, as well as stocking high-volume and high-interest products in locations that are immediately visible from the front door.
Hill says how products are placed on the shelves matters, too. If you have a shelf for batteries, make sure battery cables and other accessories are also located in the same place.
"You want to move the customer through the purchase subconsciously," he says.
Product rotation is another great way to increase sales in your store. Hill recommends adding wheels to your shelving units so they can easily be moved within your facility, and says it's a good idea to update your show floor design at least every six months.
Even if your product categories don't change, just putting things in different locations will motivate customers to move around, he says.
Hill also is a big supporter of bulk displays, noting they convey to customers the appearance of a well-stocked store.
Signs matter, too. Hill says everything should be labeled with a price. This allows customers to easily compare the product to their other supplier options, and hopefully shows them the value of including it in the order they are already planning to make.
And Hill says your merchandising strategy shouldn't end when the customer reaches your counter. He says removing stools from your counter area is a good way to keep your customer moving, and unknowingly shopping, when waiting in line. And even if a customer doesn't wander, putting snacks, drinks and other impulse items in their sight line can help pick up an easy, high-margin sale, he says.
It doesn't take much.
"You just want them to see something different. A new look leads to new customers," he says.