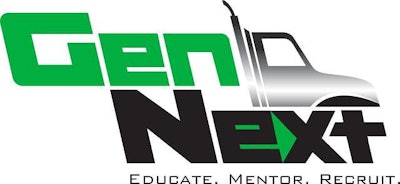 GenNext's commitment to educating the next generation of heavy-duty aftermarket leaders is being kicked up a notch.
In conjunction with the Commercial Vehicle Solutions Network (CVSN), GenNext has announced it will hold an exclusive aftermarket sales training expo for heavy-duty aftermarket distributors next year.
Scheduled for April 29 to May 2, 2016, in Atlanta, GenNext says the innovative training event is designed to provide distributor sales professionals (outside salespeople, parts managers, branch managers, etc.) one-on-one opportunities to meet and talk shop with up to 30 of the aftermarket's strongest suppliers.
The event will feature a two-day trade show where all 30 suppliers will offer individual sales guidance and instruction to distributor attendees, two keynote speakers, four individual one hour-long classroom training sessions with specific suppliers, stockholder presentations for VIPAR Heavy Duty and HDA Truck Pride members, as well as networking events, meals and entertainment.
GenNext President Steve Hansen urges distributors to send their best and brightest ales people to the inaugural event. All ages and experience levels are welcome to attend.
"The expo is designed for aftermarket distributor parts managers, branch managers, and outside salespeople that sell these products every day," Hansen says. "This is their opportunity to ask suppliers engaging questions and learn how to truly help their customers by recommending the right parts for every job. Ultimately, they will sell more parts to more people and they will have happier customers that appreciate their knowledge and input."
Hansen says there are 300 distributor spots open for the event, with a limit of 10 employees per distributor business. He says the event will fill up on a "first to sign up" protocol. The expo is first open to all GenNext and CVSN Members.
If registration has not filled up by Nov. 15, 2015, it will open up to all heavy-duty aftermarket distributors who's main source of revenue is heavy duty aftermarket truck parts and service. Businesses who would like to send employees but are not members of either group are encouraged to join both organizations to gain access to the event.
Distributor cost to attend the event is minimal.
GenNext and CVSN will cover all transportation costs (including flight) to and from the event, a two-night hotel stay in Atlanta and meals throughout the event for $195 per person.
GenNext and CVSN say the 30 supplier spots are first-come, first-served as well. GenNext is offering four Gold- and 26 Silver-tiered vendor packages for the event.
The four Gold-level vendors will receive a 10 ft. x 20 ft. show booth, event registration for four vendor attendees/staff, admission to all keynote presentations and receptions, Gold-level membership in GenNext ($5,000 value), and one uninterrupted hour of classroom time with all 300 distributors in attendance.
The Silver package includes a 10 ft. x 10 ft. booth, event registration for two vendor attendees/staff, admission to all keynote presentations and receptions, as well as a Silver level membership in GenNext ($2,500 value).
Hansen says all distributor attendees will be heavily encouraged to spend time at each booth during the expo.
"Distributors and suppliers should leave this event with an incredible feeling of accomplishment," he says. "Distributors should feel they were educated by the top suppliers while suppliers feel that they trained 300 'feet on the street' salespeople throughout North America, coast-to-coast, all in one incredibly successful weekend."
Registration is now open, and distributors and suppliers can sign up today using the links below.
DISTRIBUTOR REGISTRATION
SUPPLIER REGISTRATION