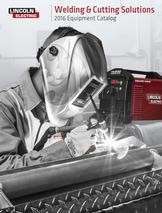 Lincoln Electric has released an electronic version of its annual Welding & Cutting Solutions 2016 Equipment Catalog.
Lincoln Electric says the updated catalog includes more 80 pages of new products, content and features an updated, easy-to-navigate format, with detailed specifications close at hand to help customers choose the right welding and cutting products for their applications.
The new catalog can be found at www.lincolnelectric.com/equipment-catalog and will soon be available on the company's mobile literature app, the Lincoln Library, which can be downloaded to tablets from Google Play and Apple App stores. Lincoln Electric says the tablet version of the catalog will be updated with new products as they are introduced and will be enhanced with rich media content throughout the year.
In early January, the printed version of the catalog will be made available, and will be shipped to more than 3,500 distributor locations throughout North America, the company says.