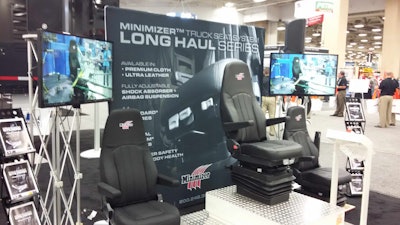 Minimizer showcased its commitment to American trucker at the Great American Trucking Show (GATS) Friday in Dallas by featuring its new heavy-duty truck seats for the owner-operator audience.
The seats, which include 14 standard features, three optional features and a lifetime warranty, were originally introduced in July.
But the genesis of the product was can be traced back to GATS of years past.
Steve Hansen, director of marketing, says the company first began planning for the new product line by surveying drivers and owner-operators at GATS three years ago and asking what features they would prefer to see in a truck seat. Hansen says a swivel option was far and away the most popular request. So when Minimizer sat down with production partner Isringhausen not long after, the conversation started there. It quickly grew, resulting in the multitude of features the seats have today.
The seats are the fifth new product Minimizer has released in 2016, and Jason Rhoads, director of marketing, says the company is focused on bringing more many solutions to end users in the coming months and years.
"We feel like we this for you guys," he says. "Hopefully this is a solution for you."