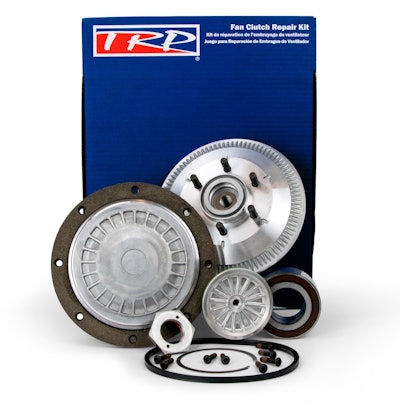 TRP, the private label aftermarket brand of Paccar, earns the No. 4 spot on our annual countdown.
The second Paccar-related product on our list (Paccar's new axle was featured last week), the company is on the list in this position for a group of new fan clutch repair kits introduced in May.
These kits are also the second consecutive clutch-related product on our list, as Eaton's self-adjusting aftermarket clutch was featured at No. 5 on our list.
According to TRP, these new repair kits come with everything needed to rebuild Horton Drivemaster and DM Advantage on/off fan drives, the first-fit drives found in Peterbilt and Kenworth trucks. For older S and HT/S clutches, rebuild and repair options from TRP include both super kits and seal kits.
TRP says all of its clutch repair products are field-tested with millions of hours of installed performance, and are backed with a one-year warranty. TRP retailers can quickly cross-reference the appropriate repair kit for each application, the company says.
To read the original release in its entirety, please CLICK HERE.
And be sure to stay tuned next Wednesday as product No. 3 will be released.