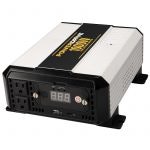 PowerDrive introduces its 1,000-Watt Pure Sine Wave Inverter.
Designed to provide clean, continuous power for sensitive electronics such as tablets, LED TVs and laptops, PowerDrive says the inverter is engineered to produce a smooth consistent wave while providing power equivalent to that located in a home, with no lines on screens or interruption in sound quality.
PowerDrive says its inverters now feature upgraded charging ports that include a standard USB 2.4 amp port and a USB-C 3.0 amp (15-watt PD) port. Several models also are Bluetooth-enabled to pair with the PowerDrive app, allowing users to customize settings; check the inverter for battery voltage, output power and product temperature; and power the inverter on and off remotely.