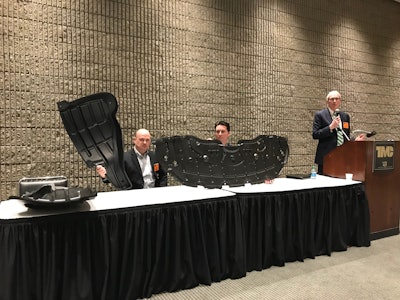 Hadley, in an alliance with its affiliated company Corvac Composites, has released a new line of lightweight thermoform barrier products to the entire trucking industry. The barrier products were introduced at ATA's Technology & Maintenance Council (TMC) Annual Meeting Sunday in Atlanta.
"Hadley is focused on the heavy truck and commercial vehicle markets by providing better products solutions," says Jim Green, Hadley president. "We believe the Hadley/Corvac relationship is a unique one … We are confident that this cost-effective, lightest-weight solution will be quickly adopted by the mainstream Class 8 market."
Hadley says the new products include splash shields, under-engine covers and underbodies.
According to Green, Hadley's lightweight thermoform splash shield and under-engine components are 30 to 50 percent lighter weight compared to current injection molds of thick thermoform parts found in the industry. He adds Hadley customers also will now be able to protect any vehicle body area, whether under the hood or under the truck to develop air flow optimization beneath the trucks. Green says the capability to effectively move the air under the truck is expected to have a positive impact on the fuel economy and heat abatement. He says the new underbody barriers can be designed to customize the air flow under the vehicle to improve aerodynamics and alleviate "hot spots" in the engine compartment.