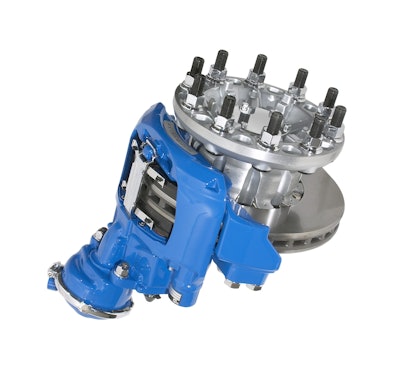 Bendix Spicer Foundation Brake (BSFB) announced Tuesday during ATA's Technology & Maintenance Council (TMC) Annual Meeting in Atlanta that it has made improvements to its industry leading ADB22X air disc brake.
BSFB's Keith McComsey, director of marketing and customer solutions, Wheel-End, says one key enhancement is an adjustment mechanism engineered for increased vibration robustness. McComsey says that adjustment improves the running clearance between the friction and rotor and improves pad life and reduces residual brake drag, which results in extended service life.
"The adjustment mechanism is a proven piece of technology that we originally implemented with the trailer-specific Bendix ADB22X-LT, and its success, combined with positive feedback from fleets using the trailer air disc brake, made it an obvious choice for building on the success of the ADB22X family," says McComsey.
BFSB adds the ADB22X also is now coupled with Bendix's longest-life ADB friction – the Bendix BX276 air disc brake pad – without sacrificing any performance. The BX276 model includes an additional 2 millimeters of thickness compared with its predecessor and delivers an 8 percent increase in wearable volume. In developing the BX276, McComsey says BFSB also reformulated the friction to achieve an improved wear rate, resulting in a pad with up to 40 percent reduction in wear rate than its predecessor.
He says a number of North American truck manufacturers have already made the optimized brake available, while the remainder expect to do so by the end of 2019.