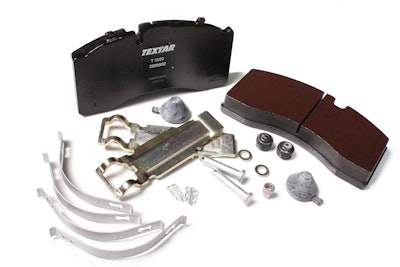 TMD Friction announced Tuesday it has released its first copper-free air disc brake (ADB) pad material, TX7400N, into the North American marketplace.
"The TMD NAFTA team [has] developed not just a copper-free disc pad that performs well, but a material that out performs the current pad materials available today in both pad and rotor life. Results to date have been impressive," says Fabio Jurchaks, TMD Friction vice president, NAFTA. "It is the first ultra-long life copper free ADB material available in the market."
TMD says the product has been received by an OEM that has decided it will production release the TMD copper-free pad in 2020, bypassing the interim step of copper reduced material. This release is five years ahead of the 2025 requirement, the company says.
"We are pleased that the OEM places their confidence in TMD to supply their copper free materials," adds Jurchaks. "Our drum brake linings in NAFTA have been copper free for a number of years and now with TX7400N as part of our air disc brake pad offerings, we have a full copper free portfolio to offer our OE, OES and aftermarket customers."