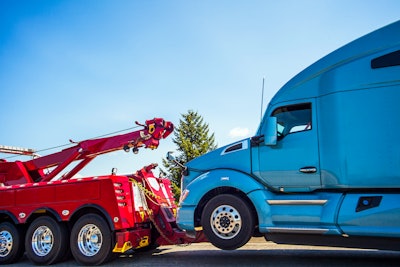 Progressive Insurance now offers heavy truck roadside assistance as optional coverage for its commercial customers.
The plan will cover the cost of roadside labor from TTN Fleet Solutions and towing.
[RELATED: How to take good photos for the insurance claims process]
"Heavy truck roadside assistance offers peace of mind on the road and efficiently connects covered customers with a qualified service provider that specializes in handling heavy vehicle breakdowns," says Peter Niro, truck product development manager at Progressive. "We are bringing this top-requested offering to market to help customers overcome challenges on the road in a time of need and get them back on the road as soon as possible."
Progressive will cover up to $500 in labor at the site of disablement and up to $5,000 in towing to the nearest qualified repair facility for the insured vehicle and attached trailer. A $250 deductible will apply at the time of service. The policy will cover the truck and attached trailer for mechanical or electrical breakdown; battery failure; flat tire; lock-out; insufficient fluids or fuel; entrapment in snow, mud, water or sand within 100 feet of a road. The policy will cover up to three roadside incidents per insured vehicle in a six-month period.
Roadside assistance will be available in most policy states by the end of this year. All heavy vehicles covered by Progressive Commercial are eligible except for motorhomes, ice cream trucks and buses.