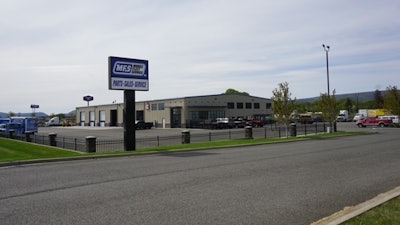 Bruckner's Truck & Equipment has expanded into Washington state with the recent acquisition of Mobile Fleet Service. (MFS).
For 54 years, MFS's three locations in Yakima, Ellensburg and Wenatchee, Wash., have supported the trucking industry, local farmers, and the state's agricultural industry.
[RELATED: Five keys to avoid disaster during an acquisition]
"We are pleased to expand our presence into the Washington area and look forward to continuing the legacy of service built by the Edler family, a second-generation truck dealership group," says Brian Bruckner, president. "They have a history of providing excellent customer service and a 'Do what it takes' attitude. We will continue to provide that same level of service with the existing team."
"After moving from South Sioux City, Nebraska to Washington in 1968, our father, Delmar Edler, began Mobile Fleet Service by running a service truck out of a single block building. Our company began to grow from there," says Dan Edler. "We acquired our first dealership, Thermal King, in 1974, and White Motor in 1980. When our father passed away in 1990, my older brother Doug Edler, 32 at the time, took over the dealership and I at 25 was right by his side along with our brother, Dennis. We doubled the size of Yakima and later added Wenatchee and Ellensburg with a total of 70 employees between all stores."
"Longevity was a big deal for us," says Dan Edler. "We appreciated that Bruckner's was also a generational family-owned company with 90 years of experience under their belt. We built MFS on service excellence and being there for our customers. Knowing Bruckner's holds these same core values and standards was huge for us.
"Our dad grew up on a farm and always held a soft spot for farmers. Agriculture is vital in our region and consists largely of apples, tree fruit, hops, and grape crops. Taking care of these farmers, our customers and employees is the legacy that we leave behind and feel good about handing the baton to Bruckner's."
As a part of Bruckner's dealership group, Washington customers can expect a larger inventory of Mack and Volvo trucks, trailers, an extensive parts inventory, and new service offerings.
"Since 1932 Bruckner's has invested in our people to provide the highest level of service," says Vice President Chris Bruckner. "Continuous team training and development ensures our customers receive the best service possible. We look forward to maintaining this approach with our newest team members in Washington. MFS invested heavily in their people, facilities, tools, and equipment to ensure their staff and customers received the best support needed to run their business. We are excited and eager to build upon the business Mobile Fleet Service established and demonstrate our commitment to providing best in class trucks, trailers, parts, and service."
He adds, "MFS built their business by serving the ag industry of central Washington. With our agricultural ties and shared service values, this acquisition was a natural fit for all parties. Whether it is our ability to provide all makes parts and service or the proprietary trucks and trailers we sell, Bruckner's has you covered."
Bruckner's says the company's Washington locations, phone numbers and operating hours will remain the same.