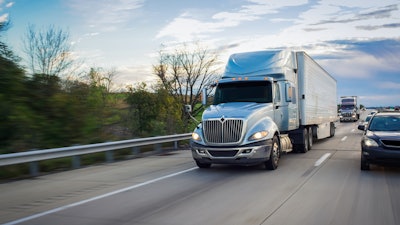 It's back to normal in 2023, FTR analyst Avery Vise says, and a slowing economy will give carriers and truckers time to catch their breath.
"2023 may be the year we think of as the year we return to normal cycles," Vise said Thursday during FTR's most recent State of Freight webinar.
With freight rates across the board settling out at or just below five-year averages and signs of a slowing or stagnant economy, Vise says this year may give truckers and fleets time to clean up after breakneck years of growth.
"There is an upside to having a weak market," Vise says, and that upside is that trucks and trailers can be repaired or replaced as needed.
[RELATED: Economists forecast stability, not growth for 2023 truck sales]
Equipment costs have gone up dramatically, he added, while diesel has come down $1.50 per gallon from record highs last summer. Financing costs for new equipment are also up as the Federal Reserve increases interest rates in an attempt to slow down a heated American economy.

"As we think about all these carriers that have come into the market (during the pandemic heyday), they are needing to replace those trucks or are potentially upside down on those trucks," Vise says. He forecasts the record number of small carriers seen starting up during the pandemic will continue to fall out of the market.
[RELATED: Inflation becomes top concern for suppliers]
In the larger trucking market, there continues to be a shift in importing from West Coast ports to Gulf and East Coast ports, Vise says, driven by continuing labor unrest on the West Coast. Ports on the other coasts rely more on trucks to move goods while West Coast ports tend to rely on rail. As the labor negotiations drag on and eventually resolve, Vise says it will be interesting to watch how importers manage the situation.
Consumer consumption, he says, still has some legs, though it seems unlikely that consumption will continue at January's high levels. Inventories also have shifted more toward a pre-pandemic normal.
"It does feel as though we are avoiding a major correction," Vise says.
Uncertainty remains around manufacturing — "2023 looks rather ugly," Vise says — and it looks like that while spot rates for freight are near the bottom now, it will take contract rates until the fourth quarter to bottom out, the forecast shows.
In employment, the driver population is starting to come down, Vise says, but it probably won't fall fast enough to keep truck utilization stronger than it is at present. The bottom of that depression will come during Q4, FTR predicts, then recover. The size of that recovery, Vise says, depends on how many drivers stay in the market.
That said, the industry is still at a record level in terms of trucking payroll jobs.
"As of now, we're standing at about 95,000 ahead of the pre-pandemic level," Vise says, pointing out that for-hire, non-payroll jobs are also at their highest level ever.