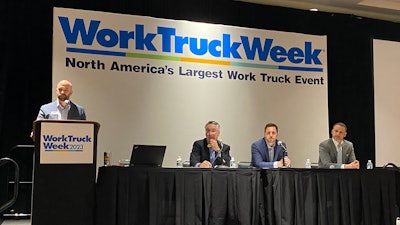 NTEA, along with S&P Global Mobility and Commercial Truck Trader, released the second edition of its new U.S. Commercial Vehicle Market Report Wednesday during Work Truck Week in Indianapolis.
In showcasing the new report at the show, NTEA's Kevin Koester said this year's edition provides additional content to last year's initial offering and provides more details to the downstream impact of the 2021 new and used equipment demand boom that spiked used truck values and pushed the North American backlog to record levels in 2022.
With both segments now regressing, and slowly returning to pre-pandemic cycle norms, Koester and panelists Charles Bowles of Commercial Truck Trailer and S&P Global Mobility's Mark Hazel and Andrej Divis illuminated on their market analysis Wednesday.
One large area of discussion was considerations, a metric NTEA developed for the report that evaluates how serious commercial vehicle customers are searching for equipment online and in dealerships. The metric grew steadily throughout 2021 and hit an all-time high in the fourth quarter. It has been steadily falling since, which the panelists said is a good thing. When considerations outpace sales and registrations it means equipment is scarce.
[RELATED: Economists forecast stability, little growth for 2023 truck sales]
"That October 2021 peak coincides with the chassis shortage and the worst points for the supply chain," said Bowles. "As more supply comes into the market, we continue to see [considerations] level out."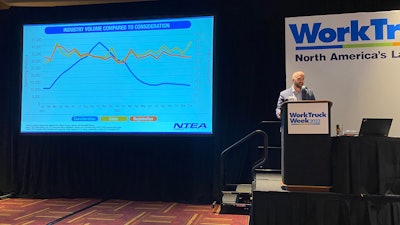 Another positive metric detailed in the report if average age for vehicles in the operating population. Expanding on numbers provided during a similar session from earlier in Work Truck Week, the panelists said their data now indicates the operating commercial vehicle population is younger than it was in 2019. Hazel said that's a good sign because it indicates customers are finally comfortable to retire their oldest units and are able to acquire newer vehicles to replace them.
"Those older vehicles that were outliers are starting to sit there," he added.
In addressing market predictions for 2023 and beyond, Divis said S&P's forecast indicates 2024 will be trough for the current Class 8 truck cycle. Divis added S&P does anticipate a minor recession in the latter half of the year, with a declining volume of freight and freight rates, but said filled OEM order boards will neutralize the impact of that slowdown for dealers and upfitters.
"We're still struggling to build out the order books; that's a big counterbalance to some of these other concerns," he said.
He said orders will likely be steady this year in medium- and heavy-duty sectors, with steady growth in all markets expected for the latter half of the decade.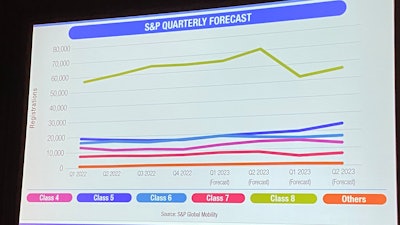 What percentage of that growth will be electric vehicles?
[RELATED: Will electric vehicles make sense for work truck applications?]
Hazel reported EV registrations in the Class 2 market exploded in 2022, mostly driven by van sales. He said that segment and similar medium-duty sectors are likely to continue seeing strong EV acceptance rates in the coming years because they best fit for EV applications. But he and Bowles also noted that despite the dramatic year over year registration boom, the total number of commercial electric vehicles on North American roadways is still miniscule.
"We hear from the press and the OEMs that EV is taking off, but in the terms of [customer online] search the percentage is still very small," Bowles said. "Right now, it's a micro, tiny amount."
The spring 2023 U.S. Commercial Vehicle Market Report is available free to the industry. For more information and to download the report, please go to the NTEA website.