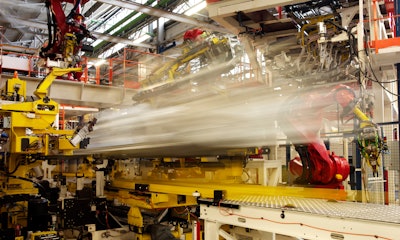 Following on the heels of rising economic expectations, ACT Research announced Friday its forecasts for Classes 5-7, Class 8 and trailer outputs are trending higher this month.
ACT says expectations for economic growth in 2023 have improved, boosting economic support for a shallower Class 8 demand trough in 2024, teeing the industry up for even stronger demand into 2025.
"With the economy gathering momentum into the second half of 2023, and with supporting backlogs in place, the risk to build rates into year end is now essentially in the rearview," says Kenny Vieth, ACT president and senior analyst.
[RELATED: TPS survey shows concern for business in second half]
"While the 2024 forecasts have risen, they continue to anticipate slowing into next year, as pent-up demand for the Class 8 and trailer markets will be largely consumed by the end of this year amid strong fleet growth in a weak 2023 freight demand environment."
Vieth adds, "An improving economic outlook is not a panacea to cure the freight industry's sloshy capacity situation. A less-bad freight market in 2023 and rising 2024 economic expectations are at least helping to boost one side of the supply-demand imbalance with which truck and trailer buyers are currently wrestling. Adding even more new trucks into an already overcapacitized market risks keeping capacity looser for longer."