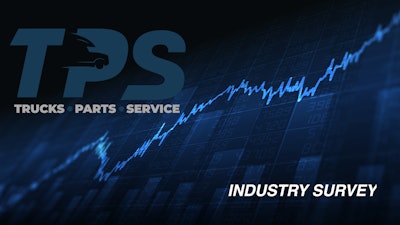 Business conditions held firm in the second quarter but industry sentiment is starting to trend downward as longstanding concerns about a recession in the second half of the year are beginning to be vocalized, Trucks, Parts, Service uncovered in its MarketPulse quarterly survey last month.
Dealers and distributors alike mostly responded with stable evaluations of second quarter business conditions in our July survey, but when asked to predict the months ahead, optimism receded. Expectations for Q3 and into Q4 were down in both segments.
TPS survey responders are not anticipating a deep recession — no responders expect to reduce their workforce and more than half of all responders still want to expand their operations — but when predicting Q3 against the first half of the year, or comparing it to business results from last year, it is clear the industry is concerned.
[RELATED: July Class 8 orders outpace expectations]
On a 1-to-10 scale, where 1 is the worst quarter ever and 10 is the best quarter ever, dealers anticipate Q3 to be a 6.94 on average. In the aftermarket, predictions are even lower at 6.40.
Dealers evaluated business conditions as a 7.18 in Q2, aftermarket responders were slightly higher at 7.30. Both totals were down slightly from Q1 but not far from Q2 projections provided in our April survey. The aftermarket actually exceeded expectations in Q2, as April's prediction for the second three months of the year was 7.06 among responders.
Economic concerns seem to be driving most pessimism for the months ahead.
"Current economic/business conditions (including inflation)" was the highest ranked concern among dealers (53%) and aftermarket responders (40%) for the second consecutive quarter in our survey, and the percentage of responders that ranked the economy as their biggest fear rose among both audiences from Q1. Every dealer responder in our July survey ranked the economy as a top five concern; as did 85% of aftermarket responders.
Within the industry, the weakest sales segment continues to be used truck sales. More than half (53%) of our dealer responders said used truck sales was the softest part of their business in Q2 and no dealer said that business was its best. A majority of aftermarket responders said part sales was their best unit in Q2 but another plurality (45%) also said parts sales was their weakest unit in Q2. Among dealers, 35% said parts was their best unit in Q2 and 12% said it was their worst.
With freight levels down and recession fears still lingering for the national economy, TPS responders have tempered their expectations for the months ahead. Only 18% of dealer responders anticipate business conditions (adjusting for seasonality) will better in the next six months than they were during the second half of 2022 — 35% believe business will be slightly worse year over year.
Aftermarket sentiment for the six months ahead is much more mixed. Aforementioned Q3 predictions are down but when asked to forecast year over year business conditions for the next six months when adjusting for seasonality, those concerns alleviate somewhat.
A quarter of responders expect business to be down, but only 5% believe business will be "substantially worse" — down more than 5% year over year. Another 60% believe business will be up year over year in the second half, including 20% expecting greater than 5% year over year growth. Considering TPS survey responders pegged Q4 2022 as a 7.71 in January, it is safe to say aftermarket forecasting confidence has been weakened by external economic factors.
Fortunately, long-term optimism can still be found in both segments.
No survey responders in July expect to reduce their workforce in the next six months but 65% of dealers and 50% of aftermarket responders want to add headcount. More than half of dealers (59%) and aftermarket responders (65%) also are considering business expansions at this time.
TPS will conduct its third quarter MarketPulse survey in August and publish a brief synopsis of the data after it concludes.
Want to read more insights from our second quarter survey? Or participate in future surveys? We'd love to hear from you.
All truck and trailer dealers and independent aftermarket businesses are encouraged to participate in the TPS MarketPulse survey, and only businesses who choose to participate will receive complete survey results each quarter. For more information, and to register, please email lucasdeal@randallreilly.com.