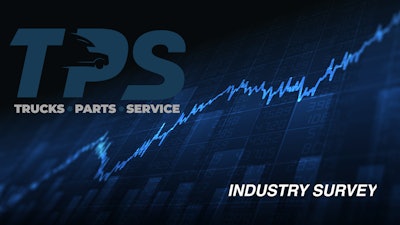 Business has slowed in trucking's dealer and aftermarket channels, reported responders to Trucks, Parts, Service's most recent MarketPulse quarterly survey.
After exceeding expectations in the second quarter, dealers and aftermarket responders alike reported business conditions were down slightly in the third quarter compared to Q2. Responders also noted their optimism for the months ahead has started to wane as continuing inflation, freight softening and never-ending employment shortages are limiting growth opportunities.
Dealer responders to our third quarter survey rated the period as an 8.13 on a 1 to 10 scale where 1 represents their worst quarter ever and 10 their best. This number was weaker than Q2 (8.24) but exceeded Q1 results (7.94) and dealer predictions for Q3 (7.67) made after Q2. The number of dealers who pegged last quarter as their best ever also dropped from an astounding 40 percent in the second quarter to just 13 percent in the third quarter.
Used trucks have quickly become the biggest challenge in the dealer space. Only 5.9 percent of dealers rated used equipment sales as their weakest business unit in the first quarter but that number has now swelled to 60 percent after Q3. This negative reading supports industry sentiment from last week's Used Truck Association (UTA) Convention, where falling prices and volumes were a major talking point.
On the flip side, the limitations of the new equipment market are now being dwarfed by the used sector — though only a small segment of dealers were willing to rate new equipment sales (20 percent) above parts (53 percent) as their strongest business segment in Q3.
Aftermarket sentiment was mixed in the third quarter.
[RELATED: Monthly HDMA webinar tackles likely recession and potential impact]
More than 60 percent of responders said 2022 Q3 was substantially stronger (meaning up at least 5 percent) over the same period in 2021. That was the strongest year over year quarterly comparison the aftermarket has recorded in our survey this year. But despite that year over year strength, aftermarket responders also rated the third quarter as an 8.53 on the 1 to 10 scale, which was stronger than dealers but the weakest quarter of 2022 for the aftermarket. Parts sales continue to outpace service growth in the sector, with the former representing the strongest business unit for 58 percent of responders.
Dealer and aftermarket responders also are beginning to anticipate a weakening for the market for Q4 and beyond.
Aftermarket responders anticipate business conditions of a 7.00 on our 1 to 10 scale for this quarter, a staggering fall after last quarter's 8.53 actual results and predicted 7.32 results for Q3 offered after Q2. Dealer confidence is somewhat stronger. The segment predicts business conditions of 7.73 for the existing quarter — far more hopeful than the aftermarket but still below the third quarter's actual results.
Nearly half of dealer responders (40 percent) also anticipate business conditions over the next six months will be equal to the prior year time period when adjusting for seasonality. That's a more measured than the aftermarket, where 74 percent of responders say the next six months will be stronger on a year over year seasonally adjusted basis.
One area where optimism is universal is hiring. No third quarter dealer or aftermarket survey responder said they expect to reduce their workforce in the months ahead.
TPS will conduct its fourth quarter MarketPulse survey in January and publish a brief synopsis of the data after it concludes.
Want to read more insights from our third quarter survey? Or participate in future surveys? We'd love to have you participate.
All truck and trailer dealers and independent aftermarket businesses are encouraged to participate in the TPS MarketPulse survey, and only businesses who choose to participate will receive complete survey results each quarter. For more information, and to register, please email lucasdeal@randallreilly.com.