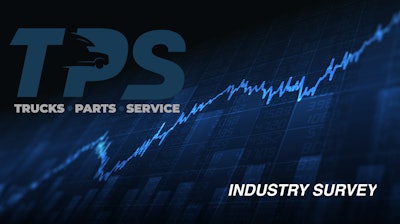 The independent aftermarket and dealer channels saw business conditions stumble to their lowest point of 2022 during the fourth quarter, reported responders to our TPS MarketPulse quarterly survey last month.
The aftermarket experienced the largest fluctuation in business. After rating business conditions as 8.58 on a 1-to-10 scale where 1 represents their worst quarter ever and 10 their best after Q3, aftermarket sentiment plunged to 7.71 in Q4 according to our survey responders. Though nearly 15% of aftermarket survey responders said Q4 was their best quarter ever, an equal percentage rated the period as a middling 5 or 6.
Additionally, aftermarket assessment by our distributor responders had been fairly steady through the first nine months of the year — 8.86 in Q1, 8.68 in Q2 and 8.53 in Q3. The comparatively large drop to 7.71 in Q4 would indicate the aftermarket has reentered a normal business cycle after the post-pandemic parts boom.
[RELATED: MacKay & Company shares forecasts for 2023]
Predictions for this quarter further support that hypothesis, as our aftermarket survey responders last month predicted a 6.67 for business conditions in Q1. That is the first time a segment of our survey responders have predicted business conditions to fall below 7 since the inception of our survey.
Dealer business was slightly better during Q4, which led to more optimism for the months ahead. No dealer responders to our recent survey ranked Q4 as below a 7, which led to an average of 7.92. Though that number was down from Q3's 8.13, it was nearly identical to dealer sentiment after Q1 (7.94).
Dealers are more bullish on Q1 as well. Our survey responders predict a 7.38 for this quarter — down from the 7.73 they predicted for Q4 but well ahead of their aftermarket counterparts.
A boost to new truck sales is a likely driver to dealer optimism. More than 30% of dealer responders rated new truck sales as the strongest segment of their business in Q4 on a year-over-year basis. That number was just 20% in Q3.
In the aftermarket, part sales continue to drive success. Two thirds of those survey responders said that business unit was their strongest in a year-over-year comparison in Q4. Aftermarket businesses are struggling in areas where they've diversified; 43% of responders say the services they provide beyond parts sales and drive-in or mobile service were their weakest business segments in Q4. Those additional services, such as used equipment sales, towing, remanufacturing and other operations, also caused trouble for the aftermarket in Q3.
Conversely, used truck sales have become a major issue for dealers. That business unit had the weakest year-over-year results in Q4 for nearly 46% of dealers, a large bump from its 26% share in Q3.
Fortunately, little to none of this market softening appears to be impacting dealer and aftermarket investment plans. Only one survey responder in Q4 indicated it intends to reduce its workforce in the months ahead, and 53% percent said they are considering expanding their footprint with new locations in 2023.
And it seems the largest barrier to growth is not the economy but the workforce. Technician recruitment and retention slightly outpaced economic conditions as the biggest concern for dealers in Q4. Aftermarket responders ranked hiring for non-technician and technician positions as their Nos. 1 and 2 challenges entering the new year.
TPS will conduct its first quarter MarketPulse survey in April and publish a brief synopsis of the data after it concludes.
Want to read more insights from our fourth quarter survey? Or participate in future surveys? We'd love to hear from you.
All truck and trailer dealers and independent aftermarket businesses are encouraged to participate in the TPS MarketPulse survey, and only businesses who choose to participate will receive complete survey results each quarter. For more information, and to register, please email lucasdeal@randallreilly.com.