Great ideas are often born in the strangest places.
In Minimizer's case, it was born in the trash…kind of.
Thirty years ago Lorraine Kruckeberg backed her car over a Rubbermaid trashcan. That seemingly mundane event inspired her husband, Dick, to develop heavy-duty poly truck fenders, which in-turn led to the founding of Spray Control Systems, Inc., which now does business as Minimizer.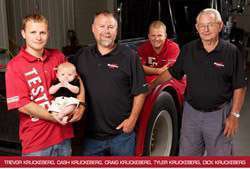 In the 30 years since 1984, Minimizer has grown from a one man, direct sales business into a nearly 60-person team with an international distribution base.
Minimizer's product suite has also expanded.
Poly fenders aside, Minimizer also now offers an array of bracket kits, toolboxes, customized floor mats, LED lights, slick disks and decorated mud flaps for the aftermarket heavy-duty trucking industry.
The company also dressed up the product that gave birth to the company by developing chrome poly and carbon fiber poly.
"When I took control of Minimizer, I already knew we had an innovative company that led the industry in quality and customer satisfaction," says Minimizer CEO and Chief Visionary, Craig Kruckeberg. "My goal was to capitalize on our superior reputation, create a strong distributor network, build our brand on our incomparable fenders and offer more groundbreaking products. We have accomplished our goals because of our innovative research and development team, our plant workers, the executives, office staff and sales team at Minimizer. They are the backbone to our success and longevity."
Over the years, Craig Kruckeberg has won numerous awards and distinctions for growth and best practices in customer relations and entrepreneurship.
Twin Cities Business Magazine recognized the company's four-generations-long commitment to family business, and the company has also been recognized with awards at trucking shows across the country as well as manufacturing and engineering excellence.
Even through all its growth, Craig Kruckeberg says the company hasn't lost its focus on being a hometown, family-run business.
"It's not only Minimizer's products and people, but also our company's dedication to our small-town roots and charitable organizations that I feel have truly made Minimizer a success for the last 30 years."
Minimizer has donated thousands of dollars to multiple causes over the years, including a $5,000 donation to the Blooming Prairie Boys and Girls Club in November, donations to the Blooming Prairie Fire Department, National Parkinson's Foundation of Minnesota, industry initiative "Back On The Road" and sponsorship of Truck Parts & Service's Distributor of the Year Award.
Minimizer also has a hand in rural business development, mentorships between young and established heavy-duty trucking industry figures and physical growth of their world headquarters and manufacturing facilities in Blooming Prairie, Minn.
In the next 30 years, Craig Kruckeberg says Minimizer is committed to continuing a legacy of advancement in the heavy-duty trucking industry and as a growth oriented, small-town and family owned American business.
Congratulations to Minimizer on hitting the 30 year mark, and here's to hoping for another innovative 30 years and more.