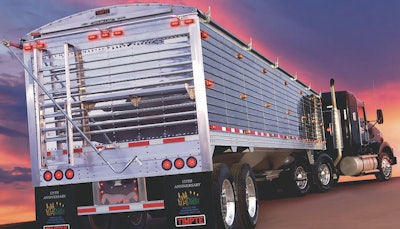 Believe it or not, there are still trucks and trailers on the road using incandescent lights. I'm sure you've seen them in your bays from time to time. Granted, it might not happen often. It would be like walking down the street and seeing someone listening to a Sony Walkman. But I digress.
"LED lighting is the norm and incandescent is truly becoming marginalized," says Kyle O'Dell, director of engineering, Optronics International. "But there are many vehicles with incandescent lamps on our roads and highways."
The fact is they're still out there and if you can convince customers to convert their incandescent lighting to LED, you'll be adding incremental revenue for your service or parts shop.
"There are some vehicles, especially older vocational trucks and truck bodies, medium-size trailers and even used fleet equipment that simply haven't upgraded to LEDs," says Mark Assenmacher, director of marketing, Peterson Manufacturing.
"With LED replacements readily available and LED pricing coming closer to incandescent lamp prices, there really is little reason to not upgrade to LEDs. They have so many benefits that are already well known to industry including longevity, lower amp draw and faster response," Assenmacher says.
The often-heard argument against LED lights, that they are so much more expensive than incandescent bulbs, doesn't hold the water it once did. But you don't have to take my word for it, check out Optronics' graphic on the right.
"The failure of a $6 incandescent lamp can literally cost hundreds, if not thousands of dollars in service fees, lost vehicle and driver productivity, fines for violations and big points against the driver's and fleet's CSA (Compliance, Safety and Accountability) scores," O'Dell says.
What's more, O'Dell adds an inoperable vehicle lamp gives the appearance that a vehicle is not being optimally maintained. It can serve as an invitation to the authorities to look for other problems with the truck and trailer.
Now that LEDs have become more commonplace, Mark Blackford, director, national fleets, Grote Industries, warns not all LED lighting is created equal.
"I suggest you offer not only LED products, but premium, high-performing LED products," Blackford says. "There are lots of LEDs readily available but some of the LEDs don't get you much better performance than the incandescent lights of 30 years ago."
Blackford, who sells to some of the largest fleets in the nation, says one of the first questions he asks fleets is whether they think LEDs are advantageous to their overall operation. The answer is almost always yes.
Likewise, aftermarket parts and service providers can offer to replace fleets' incandescent lighting with LEDs and then plan out with their customers how to facilitate implementation of such a replacement program, he says.
Availability, cost effective, longevity, efficient, safety — these are all compelling attributes of LED lighting distributors and service providers can use to sway customers and boost profit.
"Lighting is where an aftermarket parts and service provider can make a sound business case for fleets or owner-operators to convert to LED lighting," O'Dell says.
Granted, LEDs are not new and are quite prevalent. But incandescent lighting and the opportunity to convert customers still exist — just like my Sony Walkman.