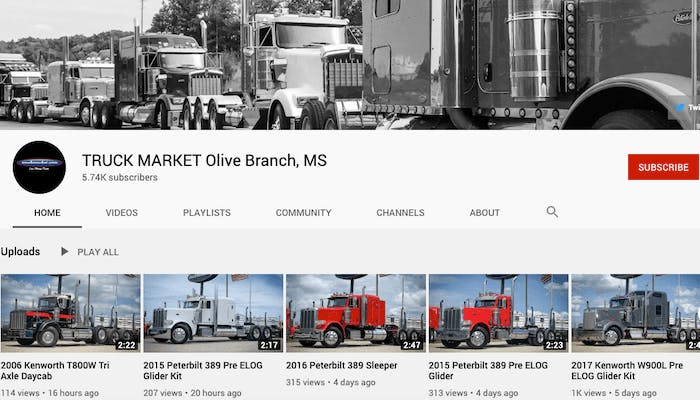 As truck buyers increasingly use the Internet to research equipment before making a purchase, dealers are using videos to help sell trucks and build their brand.
Granted, "walkaround" videos of new or used Class 6-8 trucks might not get as many hits as Taylor Swift's latest music video or piano playing cat, but some dealers are embracing the medium in an effort to keep their dealerships top of mind with customers and educate them about their inventory.
The potential importance of a well-made, informative walkaround video becomes even greater as some buyers might not be too eager to spend any more time than they have to at a dealership in this age of COVID-19. A truck video, along with a good description, can give buyers the information they need to expedite the buying process with the dealer.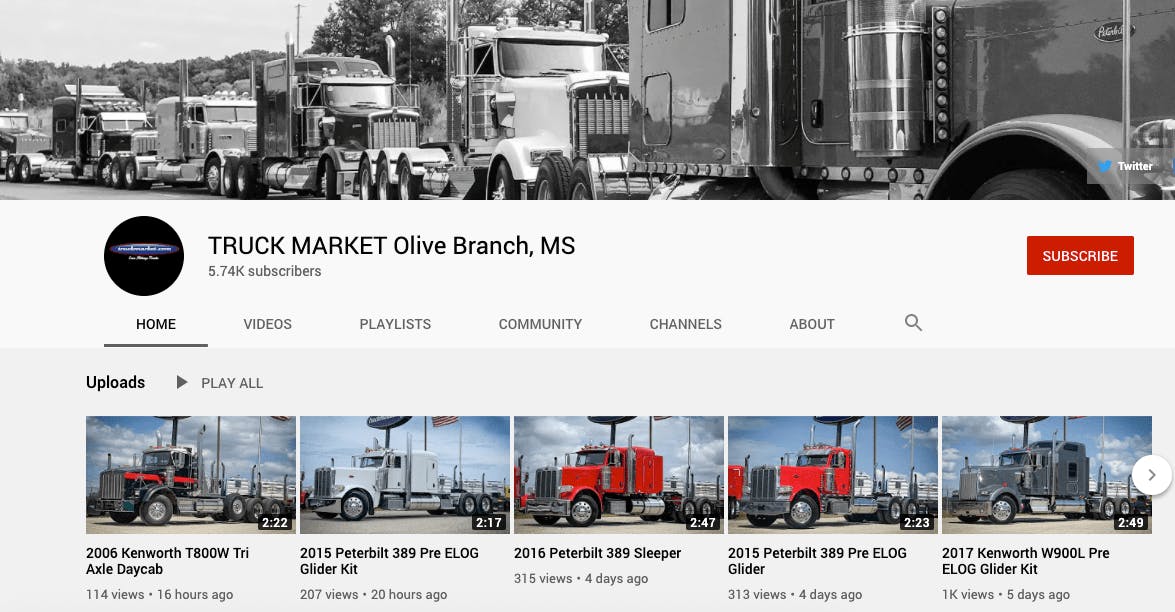 Over the past six years, TruckMarket has made nearly 1,000 videos of its truck inventory, which are posted on the dealers website, YouTube and Facebook. About three years ago, Marketing Director Doug Phelan says the videos became more of a branding tool for the dealer by sprucing up the truck walkaround videos by adding the dealer logo, providing a more thorough walkaround and improving the videos' production quality.
The videos enable "you to see and hear the truck running. It's a trust builder, for sure. It shows the truck and helps us build our brand, which is low-mileage, clean trucks. We try to show that throughout our videos," Phelan says.
Incidentally, I would be remiss if I didn't point out that the folks at TruckMarket hail themselves as the "Low Mileage Freaks."
Phelan adds the company makes sure viewers can see the dealership's sizeable inventory in the background. "We're not going to have to find a truck and bring it to you; we have everything."
Craig Kendall, specialty markets manager, The Pete Store, says the dealer began posting videos to YouTube approximately five months ago and recently it has stepped up its efforts. The videos featuring various equipment are more thorough in displaying features and capabilities; a device is used so the videos, which are shot on a smartphone, don't appear shaky; and the dealer has hired an outside company to add polish to the videos.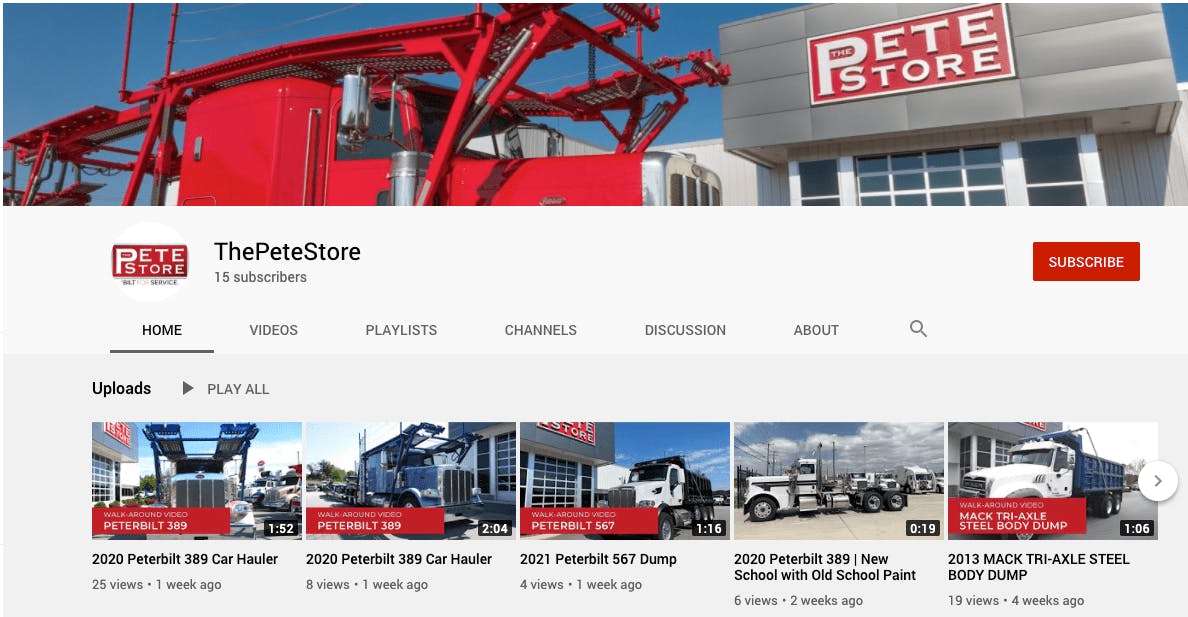 "People are wanting more access remotely just to know if they're even interested in a truck. I think video is a positive thing. It gives us a chance to tell a story," Kendall says. "A few years ago, if you had a picture or two, you were really doing something. Then we saw people putting more pictures out and [adding] a short video of the truck."
Video, photos and detailed descriptions are more important to dealers and buyers amid the coronavirus crisis.
"A lot of people are hesitant to have sales reps in their place of business or come into a dealership setting," he says. "Dealerships have been seeing less walk-in business for a while now."
Not all of The Pete Store's videos are of trucks. One video includes employees from the dealer's eight locations thanking its customers. Other videos highlight The Pete Store's philanthropic efforts and how the dealer's culture focuses on its customers and employees.
Kendall says some of the videos are to promote The Pete Store's brand and to solidify its market position — to have a presence with potential customers looking to buy trucks now and those who will be in the market for a truck in the future.
"With COVID-19, the face-to-face interaction has gone down, so how do we keep the interaction we had and enhance it? Videos, photos, tweets, email blasts, etc., are ways to do that. Instead of being afraid of technology, let's embrace it and use it," he says.
"We don't want to be the people that just sell people trucks. There's a place for information, teaching and counseling. We're trying to present choices for the customer. We want to be their go-to for their trucks, parts, service, financing — we want to capture absolutely as much of that as we can," Kendall says.