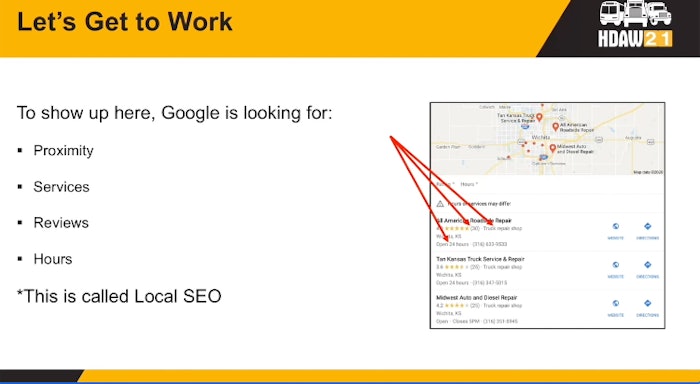 In your everyday life, how often do you use Google to search for a list of businesses? Maybe you do it to find a place to get your car repaired or maybe it's to find a restaurant in the area. Now consider how many other people Google a business. Some of them might be doing a Google search for a product or service you offer. Wouldn't you want your business to appear in the search results?
Trucks, Parts, Service (TPS) over recent years has covered the importance of being online from different angles, such as bolstering your online parts presence and how truck and trailer dealers are posting used inventory online.
If your business isn't ready to invest the time and expense to build up a feature-rich online presence, that's OK. Brie Anderson, owner, BEAST Analytics, explained simple ways to get in front of those Google searchers using just three platforms during Service Opportunities Learning Day (SOLD), a virtual event held in conjunction with Heavy Duty Aftermarket Week (HDAW) last month.
"Online is something you can no longer ignore if you have been up until this point," said Anderson during SOLD.
As part of her presentation, she set up the following scenario: A driver's truck is broken down on the side of the road. The driver's first move likely will be to grab his phone or tablet to Google "truck repair near me." Google will present him with a list of nearby companies and a map with pins to show where these truck repair shops are located.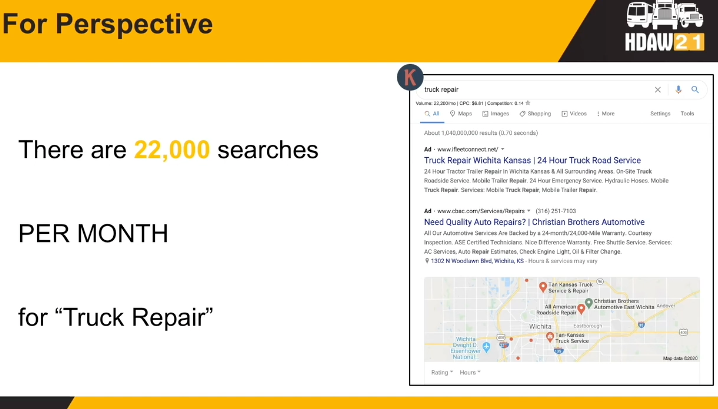 "How do you make sure your shop … is the one that shows up?" asked Anderson. "For perspective, the [phrase] 'truck repair' is searched at least 22,000 times every single month in the United States. How many searchers are you capturing?"
Anderson understands the myriad methods for developing an online presence for your business can seem daunting so she focused on employing Google My Business, Facebook and the shop's own website.
First things first
Getting set up on Google My Business will help your business appear on the results list as well as the Google map.
"Not only are people seeing where you are on the map … they're getting familiar with your brand," she said. From the search results, potential customers also can get directions from this page, go to your website, check your hours, get your phone number and see how many reviews you have. "All these different ways people can start taking the steps they need in order to do business with you," she added.
There's a good chance Google has created a listing for your business if you haven't; however, all of the important information will be missing. "Don't be this guy," Anderson said.
It's also important to claim your business on Google My Business and fill out all the information a Google searcher will need to locate and contact you. Providing as much information as you can helps Google find what it's looking for to display search results. Google is looking for proximity to the person who's searching, reviews (and if they're good or bad), your hours, the services you offer and whether they match what people are Googling.
Google looks "at a lot of other things but when it comes specifically to those map searches, you want to take advantage because we know people generally are needing that service right away," she said.
The 500 lb. gorilla
The second part to building a simple online marketing presence is Facebook.
"Facebook is the second most visited website on the entire Internet. After people make a Google search, a lot of times they'll go to Facebook to double check what they've searched, especially when it comes to businesses. You need to have that Facebook page," Anderson said.
Whether you're creating a business Facebook page or blowing the digital dust off your Facebook page that you haven't touched in a while, you need to include your company information and it should be the exact same information you're using on your Google My Business page. Also of note, Google looks at your Facebook page to make sure you're a legitimate business.
In addition to having the proper information and customizing your Facebook page, Anderson encourages business owners to customize their Facebook notifications so they're only getting notifications for the important things. For example, when their phone buzzes or their computer dings, they know someone sent a message or posted on their page — meaning people are trying to connect with their business. Notifications for someone liking or sharing your Facebook post are less important because they doesn't require a response.
And when you get a message, Anderson said respond to it quickly. Facebook shows the average time it takes for you to respond to customers. If they need you right away and they see your average response time is five hours, they're probably not going to message you.
Build a company website
Last but not least is your company's website. You can have a one-page website to start out. Just make sure all your important information is on that company homepage.
"I suggest having multiple pages but I know that building a website can be very overwhelming and expensive if you pay someone for a really in-depth website," Anderson said. However, she suggests having a page for every service you offer because Google is looking at every single page.
"If you just have one page that is just a laundry list of all of your services, you're probably not going to explain them thoroughly or it's going to be super long and people aren't going to want to read it," she says. "I encourage you, as you have time for it, please create a page for each of the services you offer and be thorough about what it is you offer. The more information we're giving Google and Facebook, the more they can take that information and … serve [potential customers] your website on a silver platter and say, 'Hey, these people can solve your problem.'"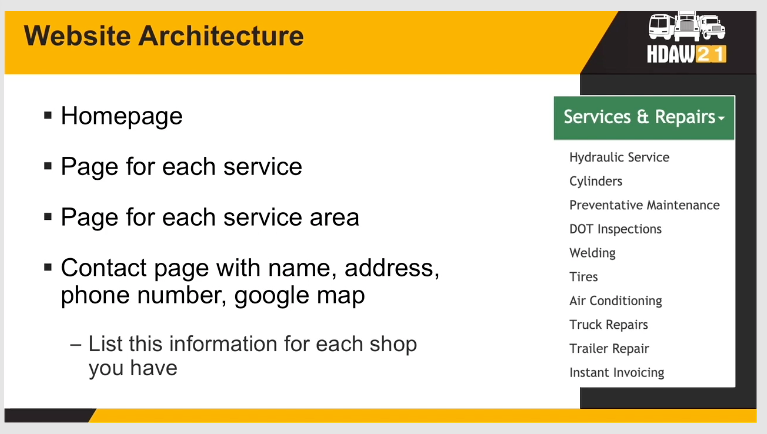 The website also should include a contact page and, like your information on Facebook, the contact information should match what you put on your Google My Business. If you have multiple shops and they're all in different service areas, make sure you put all of that information on the contact page.
"I do also highly suggest embedding the Google maps page. It gives Google that reassurance that yes you are this business and yes you are located there and people can reach you," Anderson said. "We really need people to understand what we're offering and where we're offering it."
She also recommends a footer at the bottom of every page of your website consisting of your address and a clickable phone number.
"Anytime your phone number is on your website it needs to be clickable because about 80 percent of the time people are going to be coming to your website from their phone and you need to be sure they can just click on that phone number and call you right away," Anderson said.
And be sure to check how your site looks and works on a mobile phone. Check if the mobile version is easy to navigate, if the links work, are images blocking anything.
"When it comes to the website, I know all of that sounds complicated but it doesn't need to be. Keep it simple. Tell people what you can offer them right away. Don't get super fancy with moving elements or have a ton of videos everywhere," Anderson said. "The simpler your site is the faster it will load and the more user friendly it's going to be. It can be something built out over time."
The first thing a stranded driver is picking up is their phone. "Everything we need to create should have that moment in mind: How can we show up [in searches] and how can we get them what they need as quickly as possible. That convenience of being able to get to your information right away is what people are going to go for. Everything we create, everything we put on the Internet, every profile we have, all of that needs to connect and work together," she said.
Creating a web presence for your shop is important and, as Anderson explained, just focusing on three platforms can get you well on your way to getting in front of potential customers and quickly providing them the services they need.