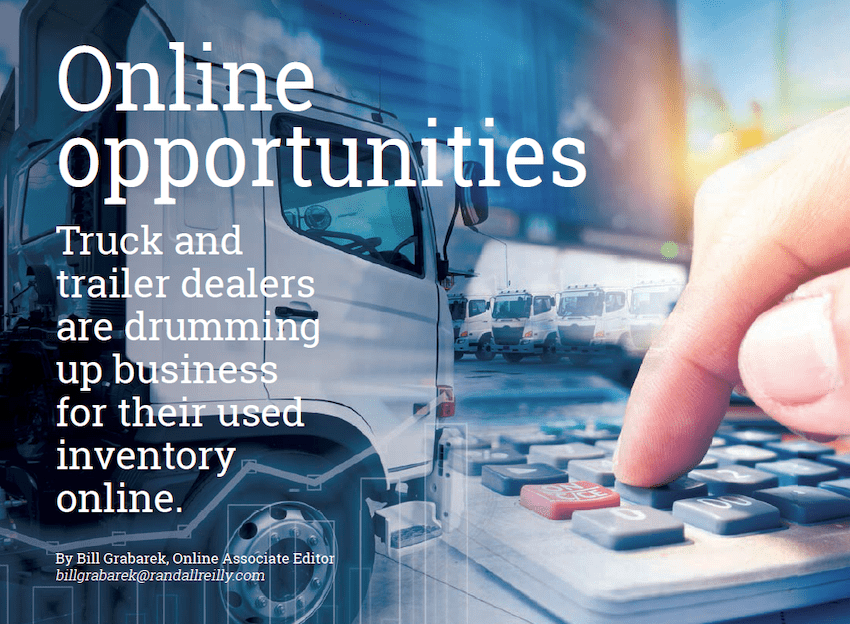 An online presence these days is practically a requirement for businesses and it's no different for dealers selling used heavy-duty trucks and trailers.
That said, just having a company website might not be enough.
To fully capitalize on the opportunities the Internet offers, dealers also should consider establishing a presence on other sites, whether they be industry-specific websites or social media sites.
While those industry-specific sites are purposely designed to help sell heavy equipment, social media shouldn't be overlooked. Websites such as Facebook and LinkedIn aren't necessarily tailor-made for sales, but they can help establish or strengthen a relationship with potential and current customers, which can lead to future sales.
An online sales and marketing strategy can "generate a lot of skepticism" among dealer principals who have been in the industry a long time because print advertising has been a staple for so long, says Cameron Nichols, marketing manager, Palmer Trucks. "But you have to consider where your customers are today."
Being social
Although Facebook might be perceived as a repository for family photos, clever memes and cat videos, the site can play an important role for dealers. Another is the more business-oriented LinkedIn.
Presence on these sites might not directly lead to the sale of a used truck or trailer, but dealers say the sites can be used to promote the dealership, build or strengthen rapport with current and prospective customers and draw them to the dealer's website.
"We're always trying to find new ways to generate interest. With the way the Internet is these days, ads are always in your face. We're just trying to remain relevant in all of that noise and this is how we're trying to go about it," says Justin Candea, sales director, Young Truck Sales.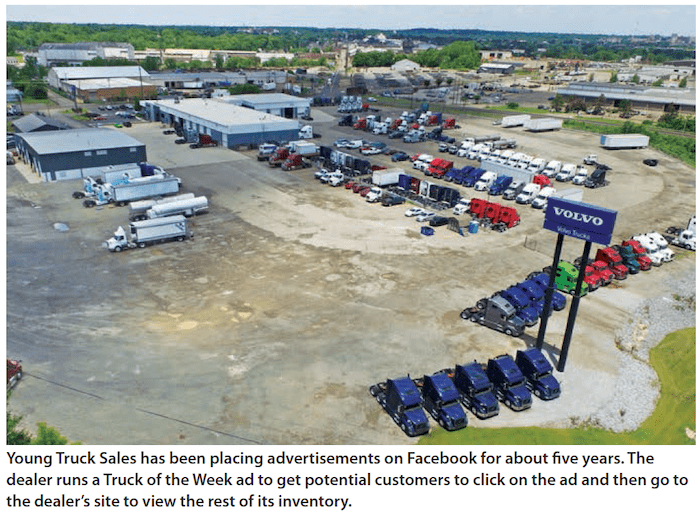 Young Truck Sales has been placing advertisements on Facebook for approximately five years. For example, the dealer will run a Truck of the Week ad to get potential customers to click on the ad and then go to the dealer's site to view the rest of its inventory, Candea says.
The Truck of the Week might be an older unit or one that might be in demand based on the time of year.
"Say we have a trade-in of a vocational truck. We try to time [promotion of it] when there's a lot of construction or road paving. People need that kind of truck, they can't wait for a new one and we have this trade-in that's maybe five or six years old. It makes them money while the time is good for them," Candea says.
A recent Truck of the Week ad generated 27 leads — which Candea defines as a request for more information, such as pricing, financing or availability — and more than 600 clicks to Young Truck Sales' site. The leads don't necessarily lead to a purchase but when combined with the number of clicks, "is pretty good activity. That's what we're going for," he says.
Young Truck Sales is more flexible when it comes to LinkedIn posts, Candea says. For example, if the dealer receives a truck in trade that is of the type a sales representative's customer purchased in the past, he might post the truck and bring it to the customer's attention to see if there's any interest.
"We always want customers seeing us so we're top of mind. If they're not ready at that time, they'll at least see us out there and when it is time, they'll come back to us," he says.
Utility/Keystone Trailer Sales places more emphasis on industry sites suited to sales but uses LinkedIn and Facebook for exposure by promoting the company, employees and customers.
The dealer uses LinkedIn to share information by posting blogs and videos, says Bill Zeamer, vice president of sales. On Facebook, the company keeps the posts customer-focused and tries to get the site's users to "Like" the dealer's page. If the posts are too sales-oriented, the dealership runs the risk of being blocked, he adds.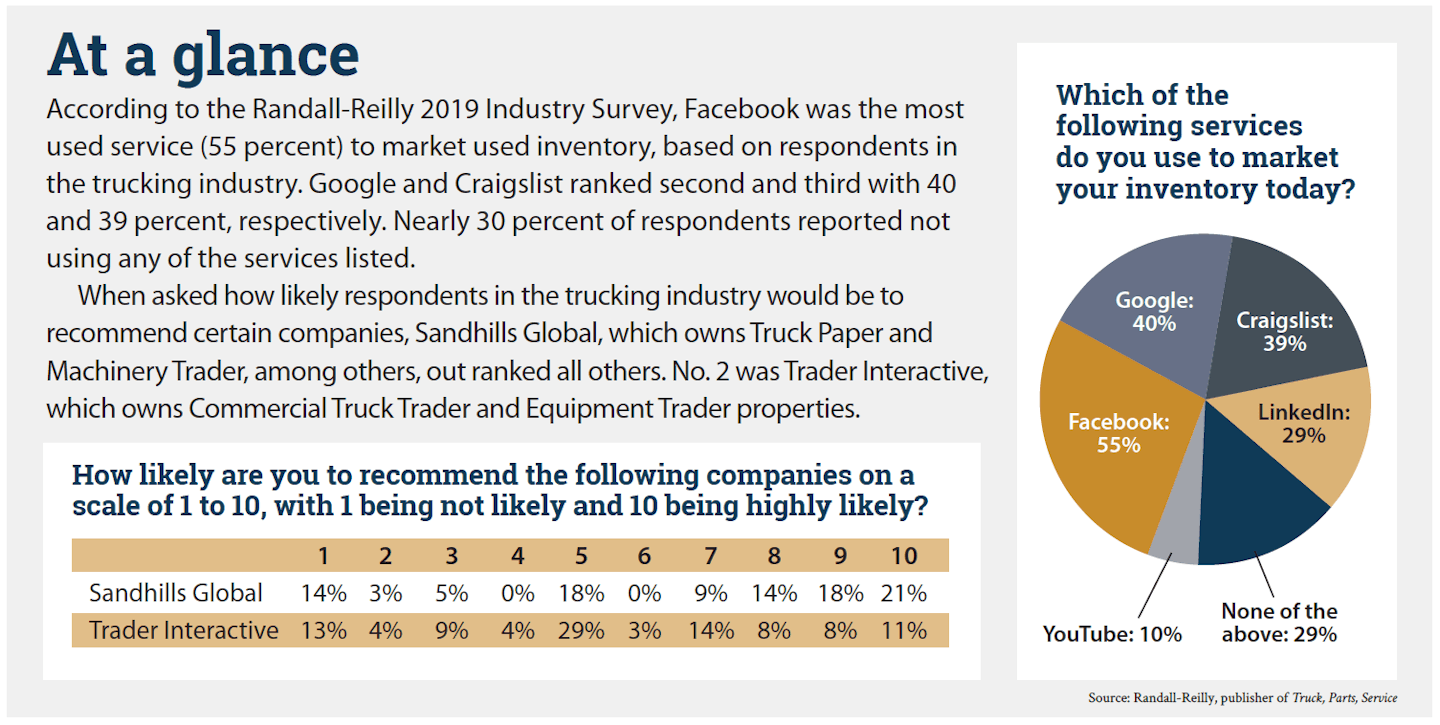 "We try to keep it personal on Facebook. We'll take a picture of a trailer someone purchased and say, 'Congratulations to Mr. and Mrs. Smith with their 2012 Utility reefer,' versus sending out parts flyers, service specials and any buy-from-us kind of thing," Zeamer says.
He says it's difficult to track how much Facebook and LinkedIn contribute to sales but adds it's still a must to have a presence on the sites. "Social media is a necessary evil. If you don't do it, you miss opportunities."
Like Utility/Keystone, Palmer Trucks' emphasis is on an industry-specific sales site; however, it also uses Facebook and LinkedIn.
"Palmer Trucks employs a social media strategy that focuses on building the brand through meaningful connections. Occasionally, we do use social platforms to retail commercial trucks as part of a well-rounded content outlay," says Nichols. "When using platforms such as social media, it is essential to keep the customer's viewpoint as the focus, rather than the organization's viewpoint."
Industry-centric options
In addition to social media, there are other sites specifically geared toward the heavy truck industry. Some of the more popular sites include Commercial Truck Trader and Truck Paper.
Other than its own website, Utility/Keystone relies on Truck Paper to sell used equipment, starting when Truck Paper's site first began, Zeamer says.
"We have a special 800 number that tracks the calls we get from Truck Paper advertisements and a special email account to track leads. We sync our inventory on our website with Truck Paper twice a week so the inventory is current for customers searching."
Besides using the Palmer Trucks site to promote its trucks, the dealer has been using the Commercial Truck Trader platform to list all of its used inventory.
"The number of calls we're getting regarding the listings we have posted have increased since using the Commercial Truck Trader platform," Nichols says. Previously, the company did a lot of print advertising and its online presence was a bare bones inventory listing.
Not only is the site organized by type of truck, but also is organized by location, which works well for Palmer Trucks' 10 locations across four states, Nichols says.
"Commercial Truck Trader allows us to show the major specifications our customers are looking for along with a really rich media gallery. On top of that we use some of the promotional features for listings we feel our customers are in the market for at certain times," he says.
Nichols adds Palmer Trucks has given a lot of thought to its approach to how it lists its trucks online.
"When we're looking at the inventory, often we have to think of the digital space as a showroom," he says. "If customers were to see a truck in person, what would they want to look at on the truck, what questions would they want to ask. We use that mindset when filling out the listings and provide the detail they would want if they were at the dealership."
Commercial Truck Trader Vice President Amanda Ayala says the site has more than 1 million unique monthly visitors. She adds that over 47 percent of the people who come to the site are looking to buy a truck or trailer within the next 30 days. "These are in-market buyers," Ayala says.
The site enables dealers to list their inventory with full descriptions and numerous photos as well as highlight certain equipment with premium and featured listings — premium listings appear above normal search results and featured listings appear at the top of Page 1 as part of a scrolling carousel.
"We can also help dealers follow consumers who may have been interested in specific trucks and trailers as they go onto social media or other websites across the Internet," Ayala says. "If consumers come to Commercial Truck Trader and look at a particular truck from a dealership, we 'cookie' those users and when they go to Facebook or Instagram, we're able to find them and populate their feed with an ad to draw their attention back to the truck, and bringing them to that unit on Commercial Truck Trader."
Commercial Truck Trader also offers a mobile app for dealers, enabling them to take photos and scan truck VINs, among other features. The app sends push notifications when dealers receive a lead from the site. The app and the website also provide reporting, including listing exposure and performance, top models by market and nationwide, buying cycles and consumer interest, Ayala says.
Regardless of the current used truck sales environment, an online presence beyond a company website can help improve sales. When sales are up, connecting with potential customers online can put a dealer one step ahead of the competition. When sales are hard to come by, that online presence can only help.
"However you choose to market your trucks, always keep in mind your overall strategy and keep the needs and behaviors of the customers in mind. It should always be about them," says Nichols.