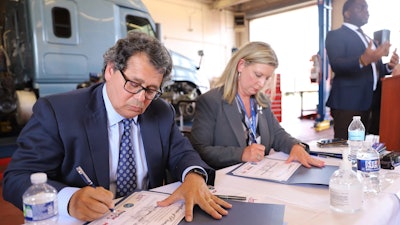 Heavy-duty service providers continue to show their creativity with new ways to create technician pipelines into our industry. The latest effort to combat the tech shortage comes from Four Star Freightliner.
The dealer announced in May an expanded partnership with Ingram State Technical College. The agreement, which will benefit students enrolled in Ingram's diesel mechanics program, is the result of a two-year partnership between the college, Four Star Freightliner, the Alabama Department of Corrections and the Alabama Office of Apprenticeship.
An apprenticeship is one part of the program designed to prepare students for the transition from classroom to workforce. Participants will complete college courses and earn select lab credit hours as apprentices through Four Star Freightliner.
[Click here to download your free copy of the 2022 State of Diesel Technicians report, produced by Randall Reilly and sponsored by Shell Lubricant Solutions]
In addition to the recent announcement, Four Star Freightliner has worked with the diesel tech program at Ingram State since 2014 by donating inoperable, but modern equipment such as transmissions and engines for the students to work on — and even allowing them to borrow a truck, according to the dealer.
"Ingram State's leadership behind [President] Annette Funderburk is just outstanding. With their high energy and 'we can accomplish anything' attitude, it is easy to support those types of people. They also have an outstanding diesel technology instructor who is there for all the right reasons. We support them with up-to-date products to work on because it will not do anyone any good working with outdated equipment and technology," says Four Star Freightliner Dealer Principal Jerry Kocan, who is also a member of Ingram State's industry advisory board.
Those who are incarcerated and have received a "minimum community out security level status" within the department of corrections are eligible for the program. "They would be available for work release and they're working in vocations all across Alabama which allows them to earn a wage," says Funderburk.
Once students graduate and earn the time to participate in a co-op program, they will begin working 3-4 hours per day in the dealership and be mentored by a senior technician. Students also receive daily and weekly feedback and are monitored to see how they acclimate into a schedule, Kocan says.
The technical college's "goal of rehabilitation with a path is just very simple but enlightening. I really believe if people can support themselves and their loved ones with a good wage, have hope and see a better future, they will walk toward that path. How can you not support giving people who have earned it a second chance? That is why we are here right? To have an impact on people and enrich their lives," Kocan says.
Funderburk says the program with Four Star Freightliner is special because "it truly leads our students at Ingram State through a prison to workforce pipeline. It allows them to earn and receive a certificate in diesel mechanics while they also enter into a business and industry where they are learning the skills needed to operate in today's society, which is one of the hardest things for those who are currently incarcerated to do, to reenter society.
"With Mr. Kocan and his employees, we couldn't ask for better partnership and collaboration. They believe in second chances. They believe our student body will come to work every day and be prepared to learn," she adds.
The technician shortage is so dire and has been an issue for so long, it would be easier to throw one's hands up in the air in resignation or rely on the age-old practice of poaching, which accomplishes nothing in the grand scheme of things.
However, it's heartening to see the industry constantly coming up with new ideas — whether it's targeting former members of the military, aligning with a local school or working with incarcerated individuals to teach them a trade benefitting themselves and the trucking industry. These are but a few examples of what repair shops are doing, and I look forward to seeing what they come up with next.
For more technician information, Trucks, Parts, Service parent company Randall Reilly produced the State of Diesel Technicians report, sponsored by Shell Lubricant Solutions.