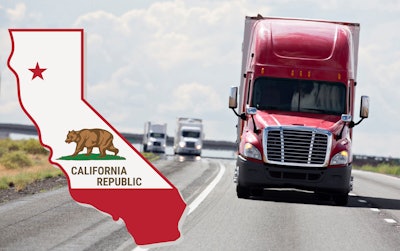 When the news broke Monday that President Biden's administration is likely to soon approve a waiver for California to enact its own emission regulations, I must admit I wasn't stunned. We all know California likes to set its own rules on emissions, and the state's aggressive timeline to phase out diesel trucks doesn't work without Federal support and acceptance.
What caught me by surprise was California wants to target 2024 model year trucks and buses with its new rules. You know, the same model year customers are receiving from their dealers and OEM partners each day.
That doesn't seem right to me.
I know California's Air Resources Board (CARB) regulatory policy isn't built around fairness, few regulations are, but I hate the idea of enacting regulations on equipment that's already in use. Many of the customers who are receiving 2024 model year trucks and buses in California have been waiting for that equipment for a year or more. They've been hungry to turn over their fleets and return to the normal trade cycles they had pre-pandemic and now, with little warning, they may soon discover the shiny new equipment they just paid for could be impacted by a new regulation? That feels wrong.
[RELATED: EMA boss says trucking needs single regulatory body setting emission standards]
Just last year, the Truck and Engine Manufacturers (EMA) filed then later withdrew a lawsuit against CARB regarding regulatory lead times. It remains to be seen if the regulations the state hopes to enact with the White House's waiver will re-trigger that litigation.
I don't love CARB setting its own regulations in any capacity — I support stronger emission regulations and understand why the state continues to push for cleaner trucks — but if we're going to clean up the trucking industry, we should do it as a nation. The Environmental Protection Agency's (EPA) proposed 2027 emission and greenhouse gas regulations seem like a better way forward. Make no mistake, EPA's 2027 regulations are another huge leap toward industry decarbonization. But the agency was talked off its most extreme regulatory timeline and published a proposed rule that pushes the industry without forcing total chaos.
When the EPA was considering its options for 2027, I heard from contacts in our industry that the agency's strongest proposal wasn't extreme, it was impossible. That truck and engine makers didn't believe it was possible to make a diesel engine as clean as the regulations would have required. I don't know if I totally believe that. The engineers in this industry are phenomenal — there's very little I think they can't build. I think their sentiment had more to do with the cost. What difference does it make if a manufacturer produces a nearly emission-free diesel engine if no one can afford to buy it?
If we (as a nation or on a state-by-state basis) enact emission regulations on diesel trucks too fast, we'll eventually reach that reality. California knows that of course, which is why it continues to offer purchase vouchers for zero-emission electric vehicles and intends to ban all diesel-powered sales by 2045. But that tactic is not perfect either.
Our EV charging infrastructure for commercial trucks remains woefully behind and even with more money and research being invested into that area, it would be virtually impossible to drive an electric truck across the United States today. Diesel will continue to be the preferred fuel source and powertrain for commercial trucking for many years. We can't have states independently setting regulations and expect fleet performance to not be impacted.
[RELATED: Trucking groups slam 'challenging' new EPA rule that slashes truck emissions limits]
Could you imagine a reality where a customer running a 2022 model year tractor from Las Vegas can't drive to the Port of Los Angeles because the truck doesn't meet California's new emission standard? Would that fleet be expected to surrender its longstanding freight contract between the port and its Vegas customer? Would they instead try to manage the route with two tractors, buying a second California-compliant unit to manage the route from the port to the state line? How is that financially viable? And how does having two trucks on one route create fewer emissions than a single unit? Think of the idle times alone.
Again, I'm not opposing emission regulations. We can reduce pollution so everybody breathes cleaner air. We absolutely should do it.
But transforming our vehicle population into ultra-green, anti-pollution machines requires cooperation, collaboration and strategy. We need national timelines everyone can work toward. We need technology that will encourage, not stifle, new equipment buying. We need to dump FET on new trucks. We need to recognize EV adoption doesn't work without infrastructure to support it.
We need to work together.