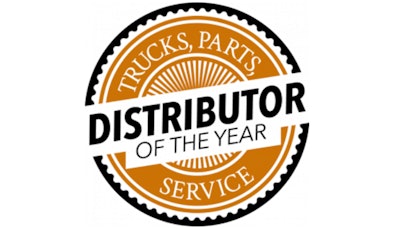 Three weeks ago, Trucks, Parts, Service announced the finalists for our 2020 Distributor of the Year award. Selected through open industry nominations, this year's finalists include three prior award winners and a prior award finalist.
To learn more about these businesses, we have asked each to answer a few questions about their operations ahead of the award finalist profiles that will publish on this site in the coming months. Today we learn more about Cook Brothers Truck Parts.
This is the second time Cook Brothers Truck Parts has earned a nomination for the TPS Distributor of the Year award. The company was previously nominated in 2010. The answers below were provided by Henry Cook, president.
When was your business founded, and by whom?
Everett Cook founded Binghamton Brockway in Dec. 1918, to bring Brockway trucks to the Binghamton, N.Y. market. Everett had two sons, Henry and Charles. Henry joined the business in 1935 and eventually took over the business in the late 1930s.
Due to the importance of the trucking industry to the war effort, Henry received a deferment from the draft when America declared war on Japan following the attack on Pearl Harbor. Charles was drafted but was unable to serve due to medical reasons. Henry felt that either he or Charles had a duty to serve their country, so he convinced Charles to become his partner in the business so he could volunteer and join the war effort.
Through this act of patriotism, the business was renamed Cook Brothers Truck Parts and the current ownership group includes the Cook family to this day.
How many locations do you have?
Nine locations. Binghamton, Elmira, Homer, Rochester, Utica, Watertown and Schenectady, N.Y.; and Pittston and Camp Hill, Pa.
How many employees do you have?
150 for Cook Brothers Truck Parts (185 total).
What is your company's value proposition?
We've got the best people offering the best service selling the best products from the best suppliers in the industry and providing them to our customers with exceptional speed because of our deep inventory investment and rapid delivery service.
Do you offer any additional services to complement your parts offering?
We offer driveline repair services at several locations and we also have hose manufacturing shops at each location.
Additionally, we are unique in that we have several related entities — an industrial supply division (branch location in Duryea, Pa.), two truck dealerships (Binghamton, N.Y., and Scranton, Pa), a leasing company (Binghamton, N.Y.) and a promotional products division (Binghamton, N.Y).
How do you differentiate your business from your competitors?
We pride ourselves on the knowledge of our employees and the breadth and depth of our inventory commitment.
Why do you believe the heavy-duty aftermarket has nominated you for this award?
We have a thorough and comprehensive analysis process we undertake when reviewing, which manufacturers/brands we'd like to work with. Once we choose to bring a product line to our customers, we work hard to promote that product line to our customer base through specials, customer training, social media and other methods.
We strive to be the type of company our valued partners want to do business with because we know the best results from our investment in their product line comes from their support of our sales efforts to our clientele.
The TPS Distributor of the Year program is sponsored by Minimizer, Meritor, Interstate Billing, Karmak and the Commercial Vehicle Solutions Network (CVSN).
To learn more about our other 2020 Distributor of the Year finalists, please see below.
Learn more about 2020 DOTY finalist Betts Truck Parts & Service