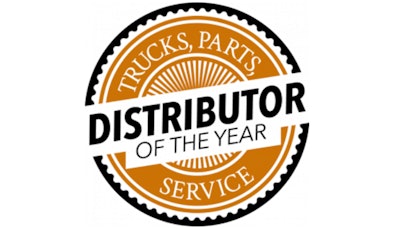 Three weeks ago, Trucks, Parts, Service announced the finalists for our 2020 Distributor of the Year award. Selected through open industry nominations, this year's finalists include three prior award winners and a prior award finalist.
To learn more about these businesses, we have asked each to answer a few questions about their operations ahead of the award finalist profiles that will publish on this site in the coming months. We start today Betts Truck Parts & Service.
This is the third time Betts Truck Parts & Service has earned a nomination for the TPS Distributor of the Year award. The company was previously nominated in 2006 and won the award in 2007. The answers below were provided by President and COO Bill Betts.
When was your business founded, and by whom?
The roots of Betts Truck Parts & Service evolved from a vision set forth more than 150 years ago. Our parent company, Betts Company, is a family-owned business for six consecutive generations and is a true testament to the American dream.
Our founder, William Michael Betts, immigrated to the U.S. in 1865. He traveled west to San Francisco where in 1868 he founded the first spring manufacturing company west of the Mississippi River. His simple yet profound commitment to his customers – marked by the motto "Building Well, Serving Better" – remains our company's cornerstone of commitment to quality and value to this day.
From our manufacturing facility in San Leandro, Calif., we started selling leaf springs and suspension components as a way to adapt to the global business environment in the mid-70s. At the time, the rise of Japanese imports shifted the manufacturing landscape and so we challenged ourselves to diversify our business. Now, throughout three states we have expanded into distribution and repair services based on customer demand.
How many locations do you have?
We have seven stores that all offer full-service repairs and parts: Fresno, San Leandro, Sacramento, Fontana and Santa Fe Springs, Calif.; Portland, Ore.; and Phoenix, Ariz.
Additionally, our mobile retrofit business, which offers FCAM (Forward Collision Avoidance Mitigation) camera and sensor installation, travels throughout the United States performing Bendix Wingman installs for fleets.
How many employees do you have?
We have 114 team members in our Betts Truck Parts & Service division.
What is your company's value proposition?
Betts Truck Parts & Service partners with commercial vehicle customers and supplier partners to help keep their trucks and trailers on the road. We maintain a large inventory of quality replacement parts manufactured by transportation industry leaders and provide experienced installation and repair services for all types of commercial vehicles throughout the western United States.
Do you offer any additional services to complement your parts offering?
We provide repair services for the heavy-duty trucking industry. Reflecting the diversity of the industry, we also offer repair services for refuse trucks, buses, emergency vehicles, cranes, construction equipment, and fire fleets.
Our primary services include: FCAM Retrofitting (Bendix Wingman Fusion and Advanced), Laser Alignments, Mobile BIT Inspections, Suspension Repair, Steering Repairs, Leaf Spring Replacement, Custom U-Bolts.
How do you differentiate your business from your competitors?
Our expertise in suspensions is second to none — springs, suspension, steering, service, and brake wheel end (4s and W).
Built from our legacy spring manufacturing company, Betts Spring Manufacturing, this is in our DNA. After manufacturing springs for more than 150 years, it gives us unique insights into broader market offerings and our customers' needs.
When we focus on our customer needs, it is essential for us to be able to offer both parts and service. When businesses choose a parts and service partner, we take great pride in providing our customers with choice. Whether it is with our OEM name brands or strong aftermarket brands, you are never expected to compromise quality. Each part we offer has to meet our quality standards and be backed up by a warranty. If we wouldn't use it on our own vehicles, we will not sell it to you.
Our branches also offer free parts deliveries to local customers.
In the spirit of continuous improvement, we added an FCAM Retrofit business to our line up in 2019. Since then, we have performed over 350 Bendix Wingman installations throughout the United States. We are focused on making our roads safer for everyone.
Why do you believe the heavy-duty aftermarket has nominated you for this award?
First, it is important to share how thankful we are to be nominated for this award. Continuous improvement is a key component of the Betts Way, and to be nominated reflects the commitment we make to our customers. More so, we are just as dedicated to enhancing our industry and the colleagues we work alongside.
Every day provides a new opportunity to fulfill our purpose, which is 'Improving the Way Things Move.' It's a way of life, and we apply it to everything we do.
We are willing to share our opinion, our industry knowledge, and help our suppliers. We are essentially an extension of our suppliers to the fleets. That is a motivating factor behind delivering a great customer experience — our value proposition is directly tied to the success of our suppliers and consistently helping our customers with solutions.
Continuous improvement doesn't just live within the walls of our business, but how we connect to our community. Whether it is our service on the HDA Truck Pride board or our commitment to career and technical education where we launched the Duncan Polytechnical truck program to bring cutting-edge CTE and work opportunities, we are committed to building up the next generation of leaders that will move our industry forward.
The TPS Distributor of the Year program is sponsored by Minimizer, Meritor, Interstate Billing, Karmak and the Commercial Vehicle Solutions Network (CVSN).