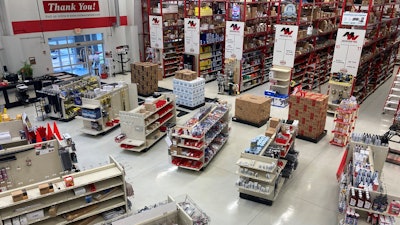 More than a century of success hasn't slowed the drive at Midwest Wheel Companies.
The Iowa-based distributor — the only two-time winner of the TPS Distributor of the Year Award (2004, 2012) and now a four-time finalist — celebrated 100 years in business in 2011. It was an incredible milestone; one the company was proud to achieve and recognize. But past success doesn't ensure future results and, after taking a minute to pause and appreciate its accomplishments, Midwest Wheel went right back to work.
In today's competitive independent aftermarket, the next year isn't guaranteed, say nothing for the next 90. Midwest Wheel remains on top of its game by never straying too far from its core principle that customer satisfaction must be earned.
"We want to be the kind of place where we're always easy to do business with. That's our No. 1 goal," says Mike Callison Jr., president and CEO, and the fifth generation of his family to lead the company. "We want customers to want to come to Midwest Wheel — and come back to Midwest Wheel — because we provide a seamless customer experience."
With seven locations (five in Iowa, two in Missouri) covering an expansive region across the upper Midwest, the company relies heavily on technology and communication to achieve that goal.
[RELATED: Get to know our 2021 DOTY finalists: Midwest Wheel Companies]
On the technology front, Midwest Wheel was one of the aftermarket's earliest adapters of e-commerce both as a parts ordering and customer-facing sales tool. Vice President Steve McEnany says Midwest Wheel had modems installed in customer facilities way back in the mid-1990s to enable 24/7 ordering, and the company's newest website iteration, which launched earlier this year and is already earning accolades, is the result of many improvements to the company's online capabilities over the last three decades.
McEnany cites customer feedback for the continuous advancements. "The new features on our site are driven by our people relaying to us what customers say their pain points are," he says. "We instruct our people to go out into the market and ask how we can make it easier for customers to do business with us and we take what we hear and apply that."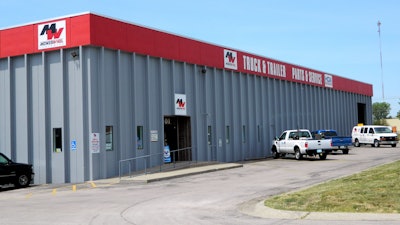 Callison and McEnany acknowledge these efforts require investment. In 2015 the company adopted a new business management system that foundationally transformed "every part of the company," McEnany says. Onboarding the new platform was a challenge requiring time, money and training, but Callison says the evolution was necessary for the company to provide the level of service it was promising its customers.
"We could not be doing what we are now had we not made the change," Callison says.
What the company is doing now includes daily overnight stock deliveries from its Des Moines warehouse to each of its seven branches, same-day delivery to nearly every customer out of each store and an online ordering portal so advanced, McEnany says, parts are available to be purchased within 30 minutes of being uploaded into the inventory system.
"Customers expect to be able to see in an instant if you have what they need," he says.
[RELATED: Here are the other distributors up for the 2021 Distributor of the Year Award]
On this note, the duo credit the company's nearly 250 employees. Midwest Wheel trusts its workforce to bring the needs of its customer base to its leadership team so the latter can take action and make investments to make the business stronger.
"We want all of our employees, top to bottom, engaged in solving problems," McEnany says. "When we can bring our people and their experience together, we can better attack problems."
The TPS Distributor of the Year Award program is sponsored by the Commercial Vehicle Solutions Network (CVSN), Interstate Billing, Karmak Meritor and High Bar Brands' Minimizer and Premier Manufacturing.