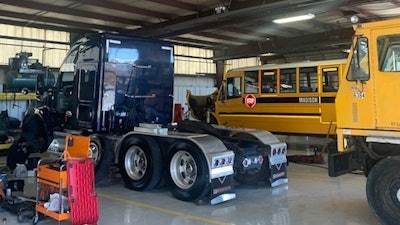 All successful businesses evolve. Few are as good at it as LASCO Heavy Duty. The company now known as one of Kentucky's most comprehensive aftermarket truck parts and service providers didn't start in the trucking business. It wasn't known as LASCO Heavy Duty either.
Founded in 1927, the business that would eventually spawn LASCO Heavy Duty has its roots in the automotive spring business. But the company's past also includes decades in automotive distribution, a longtime partnership with Moog and a strategic growth decision that enabled the company to separate its operations and fortify its position in the automotive and heavy-duty sectors for years to come.
A finalist for the TPS Distributor of the Year for the first time, LASCO Heavy Duty is a prime example of how customer centricity and an entrepreneurial spirit can lead to longstanding success in the independent aftermarket.
"We've always been a company that listens to our customers and tries to help them with whatever problem they may have. That's how my dad was and that's how I've tried to lead," says President and Owner David Washbish. "Just yesterday we did something to a truck [in our service shop] we had never done before. It wasn't something we intended to do, but a customer came to us in need and asked for help."
"We can't do everything all the time," Washbish adds, "but we're always willing to give something a shot because we know if we can do it — if we can help the customer — they will trust us and come back to us again."
There are a lot of vehicle owners across Kentucky and southern Indiana that have been coming to Washbish and his family for parts and service for nearly a century.
[RELATED: Get to know our 2021 DOTY finalists: LASCO Heavy Duty]
Springs were the company's early bread and butter, but it was Washbish's father's decision to expand his product offering and give service a try in the 1960s that started the company down its current path. Washbish says those decisions enabled the business to open an automotive parts warehouse business to complement its spring and service operation, and in the 1970s he and his twin brother Doug entered the two operations — David into the service shop, Doug into the warehouse.
The auto parts business grew at a staggering pace, David says, so much so that at one point his father considered closing the service business to allocate all resources toward the warehouse. But David says the service operation still had a dedicated and stable customer base. The family decided to keep the businesses going as separate entities, and by 1984 Washbish and his team had grown Louisville Auto Spring so large a second location was added in Lexington.
Both facilities remain in operation today under the LASCO Heavy Duty banner, providing a full line of medium- and heavy-duty aftermarket parts and service on all makes and models of commercial trucks. Washbish credits a veteran workforce for LASCO's growth and stability.
"I'm lucky. Half my guys have been with me at least 20 years," he says.
[RELATED: Here are the distributors up for the aftermarket's highest honor this year]
But there's a reason for that. Washbish invests heavily in his people, with compensation packages that far outpace his competitors and a commitment to training and career path development enabling LASCO Heavy Duty to consistently promote from within whenever longtime associates retire. In a rapidly changing marketplace, Washbish says internal stability gives him the confidence to take on any new challenge posed by his customers. It keeps customers coming back as well.
"We have customers who've been coming here longer than I have, and I've been here 47 years," he jokes.
The TPS Distributor of the Year Award program is sponsored by the Commercial Vehicle Solutions Network (CVSN), Interstate Billing, Karmak Meritor and High Bar Brands' Minimizer and Premier Manufacturing.