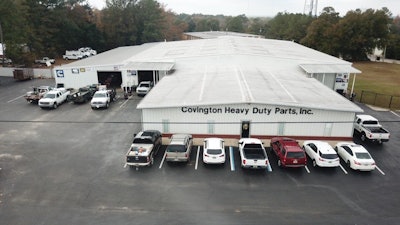 Covington Heavy Duty Parts may be new to the TPS Distributor of the Year program, but the distributor isn't new to the traits that make a company a Distributor of the Year finalist. Product availability and expertise wins customers; extraordinary customer service retains them.
"That's always been our focus," says Vice President Todd Pate. "We treat the $100 customers like they're a $1 million customer. Like they're the most important person in the world. Because in that moment they are."
He adds, "If someone comes to us because they need a part, we want to do everything we can to get it for them."
In celebrating 50 years in business this year, it's clear Covington Heavy Duty Parts is good at doing just that.
The company was founded by Don Aughtman in 1971. Forestry industry trucks made up most of its early customer base, but over time as Hoffman relocated the company to progressively larger facilities it gained a more diverse customer base. Pate says that's when his father Jimmy started buying parts for his small fleet from Aughtman, who was a close family friend.
"[Hoffman] would always joke with dad back then, 'You know trucks better than me. You should buy me out,'" Todd says.
[RELATED: Get to know our 2021 DOTY finalists: Covington Heavy Duty Parts]
The elder Pate laughed off the suggestion for years but never rejected it, Todd says, and eventually came around to the idea when he saw Aughtman closing in on retirement. Jimmy Pate acquired Covington Heavy Duty Parts in September 1993 and immediately began growing the business.
"We started by adding salespeople and then as they grew our territory, we added stores where they were selling parts," Todd says. "We were focused on serving our customers and as we got more, we grew to support them."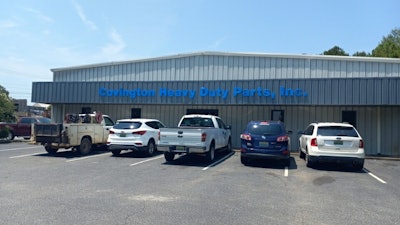 Covington Heavy Duty Parts now operates eight parts stores (six in Alabama, two in Florida) and cleaner and equipment facility. Todd credits his workforce for the company's continued growth and longevity. The company has a strong mix of long-time sales associates and newer employees, and Todd says oftentimes the former take it upon themselves to help train the latter.
"I've always been about training. We try to train our guys as much as we can," Todd says. "But we're also fortunate we have a lot of guys who have been with us a long time who are willing to share their knowledge. They help instill to our younger guys how important it is to always be looking out for the customer."
He adds that dedication to customers has been vital during the pandemic, particularly this year, with so many product lines harder to acquire due to the global supply chain disruption. Todd says he's communicated regularly with his vendor base to stay alert of any potential slowdowns and has onboarded several new suppliers to fill temporary fulfillment gaps.
Covington Heavy Duty's sales team also has stepped up, he says, working together to communicate product availability across its eight stores and independently source parts in emergencies to keep customers on the road.
[RELATED: Here are the distributors up for the aftermarket's highest honor this year]
"We are doing everything we can to communicate and keep information flowing as much as we can," Todd says. The supply chain might be "a nightmare right now," but that's not the customer's fault. If anything, now is a chance to build customer relationships, he says.
"I think people still buy from people and relationships still matter," Todd says. "If we can help our customers now — get them the parts no one else can find — we can strengthen those relationships."
The TPS Distributor of the Year Award program is sponsored by the Commercial Vehicle Solutions Network (CVSN), Interstate Billing, Karmak Meritor and High Bar Brands' Minimizer and Premier Manufacturing.