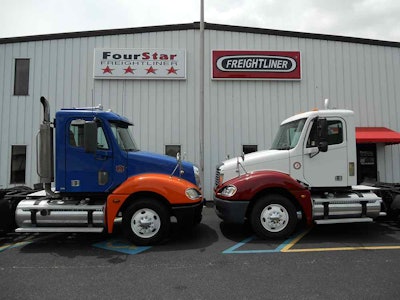 Four Star Freightliner in Montgomery, Ala., capitalized on the state's biggest football rivalry between the Crimson Tide and the Auburn Tigers and locked in a quick sale.
Everyone knows the old saying: You have to spend money to make money. The truth of that is obvious, but when times are lean, it's hard to maintain a heavy marketing budget.
Furthermore, marketing has changed dramatically as social media and other digital platforms have revolutionized so many aspects of commerce, especially on a national scale.
However, there are other marketing approaches that can distinguish your business in your local market, often without requiring too much investment. These are sometimes called disruptive marketing practices because they differ from the standard approaches to marketing.
Here are three ways to create disruptive marketing campaigns on a limited budget.
GET BEHIND A CAUSE
Working on behalf of a worthy charity or initiative can help your company gain visibility, as well as the good will that comes from helping your community.
A great example is Truck Centers, Inc.'s annual toy drive for needy children in the markets it serves. In 2016, the company collected about 800 toys for children who otherwise might not have received much for Christmas, working with Toys for Tots coordinators in each market.
Truck Centers has other, similar local and national involvements, too. "The Toys for Tots campaign was one of our highlights for 2016, along with a school supply drive that we held in August to provide children with new backpacks full of their entire school supply list," says Katie Hopkins, executive vice president for Truck Centers.
HARNESS YOUR DORMANT ASSETS
Are you sitting on leftover promotional items from previous campaigns, such as coffee mugs or something nicer, like personal electronics items?
These can be used at trade shows or through local giveaways. Sometimes you can use such materials, or discounts on your products or services, as a trade for a sponsorship or other presence at a key event.
PUT A CREATIVE SPIN ON ONE OF YOUR PRODUCTS
Use your resources or find a local partner to create something that makes your typical product stand out in a completely new way.
Four Star Freightliner in Montgomery, Ala., painted two used trucks in the colors of the state's biggest football rivals — Auburn University and the University of Alabama. Originally planned as a project to fill downtime in the dealership's body shop, the trucks sold to a father/son team two days after entering the paint booth.
"The paperwork was signed before the trucks were finished," says used truck sales manager Don Alexander. "Everybody thought I was crazy, but I've been selling trucks for 20-something years. Basically, a truck is a billboard for owner-operators. They want something unique, something that will stand out."
That's what disruptive marketing is all about — making your brand stand out in a way that no one else is doing.
---

This is part of a series of stories from Successful Dealer on the best practices for moving used trucks. To download the entire guide, click here.