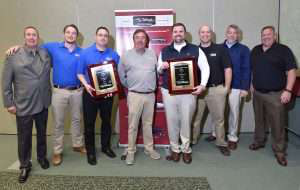 Talbert Manufacturing named Hale Trailer Brake & Wheel of Voorhees, N.J., as its top dealer for the ninth straight year.
This award recognizes a Talbert dealer for high performance in selling trailers, service and parts.
"Hale continues to lead our North American dealer network year after year. They've earned the reputation as a leader in selection, service and customer satisfaction," says Troy Geisler, Talbert Manufacturing vice president of sales and marketing. "When it comes to trailers, Hale is really a one-stop shop for their customers."
Hale is a full-service trailer dealership that sells new and used trailers and related equipment. The dealership also rents trailers, sells commercial trailer parts and accessories, and provides general service and repairs to trailer equipment. Hale covers the East Coast, from Maine to Florida, with 12 dealer locations.
Talbert also named Freightliner, of Grand Rapids, Mich., as one of the top 10 dealers and its Most Improved Dealer of 2016.
"Freightliner is a perfect example of what we look for in a dealer," Geisler says. "They care about the success of their customers, which aligns perfectly with Talbert's values."
Freightliner is a perennial top Talbert dealer that specializes in the construction, material hauling and agricultural trailer business. The company, which serves western Michigan, employs more than 30 highly experienced truck and trailer service technicians.
The remaining top 10 dealers, based on sales in 2016, are in alphabetical order below.
Columbus Equipment Company, of Columbus, Ohio.
Coogle Truck & Trailer Sales, of Otterbein, Ind.
Leslie Equipment Company, of Cowen, W.V.
Lucky's Trailer Sales of South Royalton, Vt.
Monroe Tractor & Equipment, with 11 locations throughout New York State.
Reno's Trailer Sales, of Belle Vernon, Pa.
Royal Truck & Trailer Sales & Service Inc., with four Michigan locations.
West Side Tractor Sales Co., Naperville, Ill.