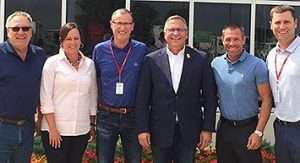 U.S. Congressman Mike Bost (R-Ill.), a member of the House Transportation and Infrastructure Committee, visited the main campus of Truck Centers, Inc., in Troy, Ill., on Aug. 14.
The visit was led by dealership owners, John Hopkins and Mike Yates, and three third-generation leaders focused on discussing the FET, electronic logs, emissions regulations and other pressing issues for small businesses in the trucking industry.
"It was a great privilege hosting Congressman Bost, a key leader in revitalizing our nation's infrastructure, and sharing with him our concerns and commitments to keeping freight moving across America through our strategic locations in America's heartland," says Hopkins.
The group discussed the federal excise tax (FET) legislation and the negative impact it has had on the truck business for both dealers and their customers. They asked Rep. Bost to consider joining a dozen other bipartisan cosponsors of H.R. 2946 to repeal the FET on heavy-duty trucks and trailers. The topics of electronic log systems and the increasing costs that new EPA emission regulations and how they are impacting the dealerships' customers were also discussed, the company says.
"Having a personal history in the trucking industry, Congressman Bost understands the significance that trucks play in keeping other industries going, which is vital to the economic strength of the United States," Hopkins says.
Truck Centers is a family-owned dealer group with a 47-year history representing Freightliner, Western Star, Kalmar/Ottawa, Fuso and Detroit Performance Products. The current active network consists of 10 full-service dealerships, two auxiliary locations and one on-site customer parts facility in the St. Louis metro area, Illinois and Indiana. The 55-acre dealership campus in Troy houses the network's flagship dealership and corporate headquarters.