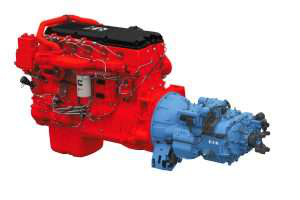 Eaton Cummins Automated Transmission Technologies joint venture has announced the addition of a new downsped overdrive model to its broad range of Eaton and Cummins SmartAdvantage Powertrains.
The 1,550/1,850 lb.-ft. torque rating is compatible with rear axle ratings down to 2.47:1, enabling engine cruise speeds as low as 1,075 RPMs – even lower than some direct drive transmissions. The new model is an ideal specification for fleets interested in optimizing performance and fuel economy in linehaul applications.
"This new SmartAdvantage model is capable of the lowest cruise RPMs in the trucking industry for best in class downspeeding," says Alex Stucky, product strategy manager, Heavy-Duty Linehaul Transmissions, Eaton Cummins Automated Transmission Technologies.
"It's our most downsped SmartAdvantage Powertrain, and it has been validated in field tests across a wide range of duty cycles.  When paired with the 1850 rating, fleets can maximize fuel economy without sacrificing performance."
Available through North American OEMs in October 2017, the FAOM-18910S-EC3 enables more options for gradeability, improved downspeeding, and the potential for higher resale value – appealing to a wider secondary market, the companies say.
The SmartAdvantage Powertrain — which combines the X15 engine and Fuller Advantage Series automated 10-speed transmissions — offers customers the choice of small-step overdrive or direct-drive gearing and industry-leading fuel economy.  Fleets running 2010 model year trucks can expect to see 20 percent better fuel economy with the current X15 SmartAdvantage Powertrain versus the 2010 ISX15 powertrain, the companies say.