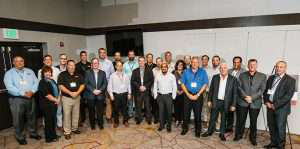 On Wednesday Wabash National Corporation awarded seven van trailer dealers with Ambassador awards for achieving four- and five-star dealer status based on 2016 performance criteria. This marks the second year that Wabash National has recognized its top dealers with Ambassador awards.
Of the 23 dealers that are part of the company's Dealer Ambassador Program, seven earned an award for top performance. The five-star dealers were Fleetco, Inc.; M&K Trailer Centers; TEC Equipment, Inc.; Wabash Canada. The four-star dealers were Fleetstop Trailers, Ltd.; Twin State Trailers, LLC; Wick's Truck Trailers, Inc.
Wabash National says its Ambassador program requires the highest level of performance to keep pace with the company's standards, growing customer expectations and heightened industry demands.
"Our four- and five-star dealers have demonstrated their commitment to serving our customers by consistently striving to exceed customer expectations," says Todd Chrzan, director of sales, Commercial Trailer Products. "Our dealers are some of Wabash National's most valuable assets and an integral part of the company's success. Our top dealers continually show us they share our values of quality and innovation. It's a privilege to work with them."