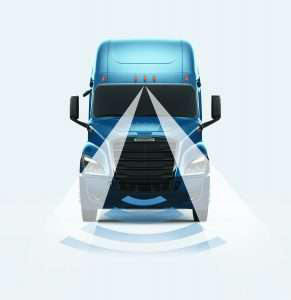 Detroit made news Monday with a number of announcements at the North American Commercial Vehicle Show in Atlanta.
The company announced its Detroit Connect Analytics safety reporting feature will now be included at no charge for five years with the purchase of the Detroit Assurance suite of safety systems on the new Freightliner Cascadia. Additionally, Detroit says those fleets with the new Cascadia spec'd with a Detroit engine will soon have full over-the-air functionality of Detroit Connect Remote Updates, including the ability to remotely and securely program select engine parameters as well as accept Detroit-initiated firmware updates.
Regarding Detroit Assurance, the company says version 4.0 seamlessly integrates into the new Cascadia, offering new, advanced features that deliver exceptional control and protection. The safety reporting feature will be available beginning in October 2017 and will also be offered retroactively at no charge for all new Cascadias spec'd with Detroit Assurance built before October.
Detroit says safety reporting will be accessible via the Detroit Connect portal. This feature reports and scores safety event data such as lane departure warnings, collision mitigation braking, hard and severe brake events and following distance warnings. Detroit says that on-board sensor readings are captured from 15 seconds before a fault event occurred to 15 seconds after specific events, letting users know what to focus on to improve driver behavior.
"Customers who spec Detroit Assurance 4.0 will have access to their safety event data via the Detroit Connect portal, giving them actionable information they can use to help put their drivers on the path towards accident-free driving," says Jason Krajewski, director, truck connectivity, Daimler Trucks North America (DTNA).
Detroit says users can view data for a single trip, a single vehicle, or their entire fleet over different periods of time. This allows customers to spend less time crunching data and more time optimizing vehicle and driver performance. And as previously announced, the Detroit Connect Analytics fuel efficiency performance feature will also be available in an upgrade package with the new Cascadia beginning in October 2017.
The new OTA remote updates for Detroit Connect deliver on the company's promise to provide over-the-air programming capabilities to improve uptime by reducing the need to pull into a repair shop to initiate changes.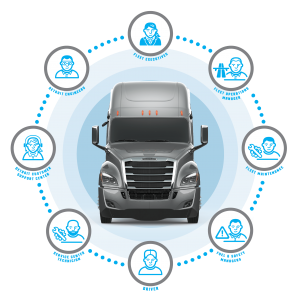 "By delivering over-the-air programming capabilities, we are giving fleets the tools to maximize uptime and optimize vehicle performance, while reducing the need for our customers to pull into the shop and plug in every time they want to change a parameter, upload a firmware update, or download a Detroit Diesel Electronic Control (DDEC) report," says Lauren Attinasi, product strategy manager, connectivity at DTNA.
"Remote Updates help keep our customers' trucks on the road, and with the cellular capabilities delivered by the Detroit Connect platform, we give them the flexibility to update their vehicles' electronic control modules (ECMs) or engine parameters at a time and location convenient to their operations.
Also available in October, the parameter programming capability gives customers the flexibility to build their own parameter profiles using the Detroit Connect portal, which they can use to update one truck, a set of trucks, or their whole fleet at once. Utilizing the Detroit Connect platform's cellular connection, Detroit says customers can change maximum road speed, maximum cruise speed, idle shutdown time, and idle shutdown minimum/maximum ambient air temperature parameters.
With Remote Updates, Detroit engineers can send firmware updates over-the-air to electronic control modules on Detroit-powered new Cascadias. Fleets are notified through the Detroit Connect portal when a firmware update is available, as well as given a detailed overview of the change. Upon fleet approval, the encrypted, truck-specific firmware packages are transmitted directly to the selected vehicle and from there, the driver can accept the final firmware installation once parked in a safe location with the engine off. Initial rollout of firmware over-the-air updates begins in December, Detroit says.
Ensuring all connectivity platform touchpoints were secured and routinely tested was key in developing Remote Updates. Multiple layers of security keys ensure that Remote Updates data remains encrypted throughout the over-the-air transmission process.
"Daimler Trucks North America and Detroit take data privacy and service architecture very seriously," says Attinasi. "While improving uptime was top of mind in developing these over-the-air programming features, we wanted to make sure that our customers' vehicles and their data were as secure as possible before making this available to them."
Remote Updates is included with the base Detroit Connect package, which is available standard for five years with the new Cascadia, and will be retroactively available on all Detroit-powered new Cascadias.
New products, systems on display
DTNA and Detroit also are showcasing Detroit Assurance 4.0 and how its connected vehicle services, advanced safety systems, and a full range of powertrain solutions that work together to deliver greater efficiency, uptime, safety, and performance at the NACV show.
"We're highlighting how our safety systems, components and connectivity are integrated with Freightliner and Western Star trucks to optimize uptime and fleet operations," says Kelly Gedert, director, product marketing, Freightliner and Detroit. "Visitors to our booth will find an array of innovative technologies, solutions and ideas designed to help their business."