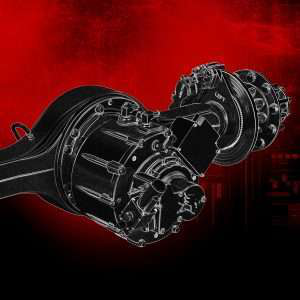 In response to the growing trend of electric powertrains, Meritor has launched its M 2019 initiative that includes a suite of electric drive axles and suspensions aimed at medium-duty, city-delivery, transit-bus and severe-duty applications that could be production-ready as early 2019.
"Essentially, we're focusing on integrating an electric motor into the differential carrier," said Jay Craig, CEO and president for Meritor. "As we look to future emissions regulations and our customers' desire for more efficiency, we're developing new and innovative solutions to expand our product portfolio."
The e-carrier, an electrified and lightweight replacement for a mechanical carrier, can house various drivetrain configurations, including full electric, hybrid, single or tandem axles depending on application. The electric motor is integrated into the axle, allowing room for batteries and other electrical components.
Meritor's 13Xe rigid axle can deliver 200 kilowatts of continuous power and featuring customizable gearing to cover line-haul, school bus, refuse, pickup and delivery, utility and other applications.
Other related electrified product solutions include an independent suspension for applications such as military, emergency, off-highway and construction vehicles that will benefit from increased performance and an eCorner module for low-floor applications such as medium-duty Classes 4 and 5, pickup and delivery and transit buses.
Meritor will also offer Quadraulic and next-generation air disc braking systems optimized for use on hybrid or electric vehicles with regenerative braking.
"These emerging electric solutions reflect Meritor's commitment to develop axle, suspension and brake technologies that support our technology roadmaps and future product plans based on our customers' needs," said Craig.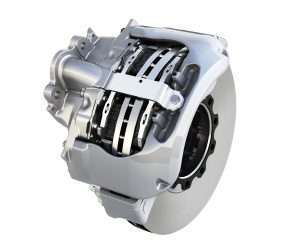 New air disc brake
Also announced at the North American Commercial Vehicle show in Atlanta, Meritor said its EX+ air disc brake for tractor and trailer will be available beginning in 2018. The new brake is 10 lb. lighter than previous versions and features a gear-synchronized, twin-piston design to deliver even force across the brake pads.
ThermAlert now standard
Finally, Meritor announced its ThermAlert wheel-end heat sensing system is standard on its MTIS automatic tire inflation systems for trailers. The system alerts the driver of high wheel-end temperatures with an indicator light to help minimize damage to axle and suspension. Meritor also is increasing the warranty for MTIS to five years.