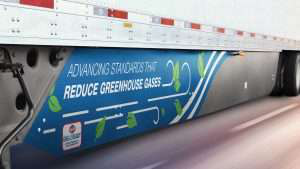 Utility Trailer Manufacturing Company announces its Utility Side Skirt has earned preliminary approval from the Environmental Protection Agency (EPA) for use as an aerodynamic device on dry van and refrigerated trailers in order to meet Greenhouse Gas-Phase 2 (GHG2) regulations.
"Everything we can do to make our trailers more aerodynamic is a huge benefit for the environment and as well as for our customers," says Jeffrey Bennett, vice president, Engineering & Product Development for Utility. "We are proud that our Utility Side Skirt qualifies at the GHG2 BIN III Level, which is a standard that exceeds the current SmartWay requirements. It also exceeds current CARB (California Air Resources Board) requirements."
The EPA's and NHTSA's Phase 2 Heavy-Duty rules are the latest regulations put in place to further reduce greenhouse (GHG) emissions and fuel consumption for medium-duty and heavy-duty vehicles – including trailers that are used in combination with tractors.
"After extensive testing in our R&D facility, the construction of the Utility Side Skirt is proven to be nearly indestructible and is designed to provide long term durability," adds Bennett.
Constructed from UV protected bi-directional fiberglass reinforced plastic, Utility says the side skirts are engineered with a unique angled design at the bottom of the skirt for enhanced rigidity without a loss of flexibility. This design enables the skirt to maintain its structural integrity when the trailer is moving at higher speeds.
The proven Utility Side Skirt includes a 5-year warranty and is available as a factory or dealer installation option for new Utility trailers. Retrofitting for existing trailers is available through aftermarket at a local Utility dealer, the company says.