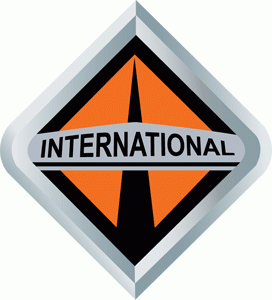 International didn't only introduce a new tractor Monday at the North American Commercial Vehicle Show (NACV) in Atlanta. The company also provided an update on its partnership with Volkswagen, as well as announced the most recent product expansion to its vocational truck portfolio and OnCommand Connection platform.
In expanding its Class 8 premium vocational truck line-up, the International HX Series is now available in a 51 in. sleeper cab on both the HX520 and HX620 models. These models will feature the International 12.4-liter A26 engine, as will the company's new HV Series.
"We're thrilled to bring even more options to the vocational truck market with products that are redefining the standard for uptime and productivity," says Michael Cancelliere, president, Truck and Parts. "With the introduction of the International A26 engine on our off-highway products, we continue to raise the bar for vocational and severe-service vehicles by including our big bore engine that will reliably provide our customers with the power and versatility to meet any application."
"In our pursuit to be the leader in putting the driver first in all of our truck design and product offerings, we listened to our customers and their desire to have a sleeper option in the HX Series, a premium Class 8 vocational truck," says Mark Stasell, vice president, Vocational Truck Group. "The HX520 and HX620 models will be available with an integrated 51″ short sleeper cab for those drivers that need an incredibly rugged chassis designed to survive in punishing off-road applications and require a comfortable work space and roomy place to rest after a demanding day behind the wheel."
International says the HX Series addresses a full range of applications for the severe service industry. The trucks were engineered to withstand the most punishing job sites and include prime features such as a 40 degree wheel cut with 425 series tires for improved maneuverability and an all-new standard cab air suspension for a supremely comfortable ride.
"We're excited to offer our customers the International A26 engine, designed with uptime in its DNA, on the HX Series and across our vocational truck line-up," says Stasell. "Much like our Class 8 on-highway customers, they will experience a quieter ride, better fuel economy, and excellent corrosion prevention due to significant enhancements built into the engine. The A26 will include vocational ratings on the HX Series that will deliver application specific torque and power for any job site while giving drivers maximum comfort from a quieter ride."
Four HX Series models are offered, with both set-forward and set-back front axle models in either short or long hood, depending on the application.
The HX515 is a 114 in. BBC Set-forward Axle Straight Truck with primary vocations including concrete mixer, construction dump, refuse/roll-off and crane.
The HX615 is a 115 in. BBC Set-back Axle Truck or Tractor with primary vocations including construction dump, concrete mixer, platform stake/crane and refuse/roll-off.
The HX520, is a 120 in. BBC Set-forward Axle Truck or Tractor with primary vocations including heavy haul tractor, construction dump and platform stake/crane.
The HX620 is a 119 in. BBC Set-back Axle Truck or Tractor with primary vocations including heavy haul tractor, construction dump and platform stake/crane.
International adds a 51 in. Short Sleeper Cab will be available on the HX520 and HX620 models. The HX515 and the HX615 models are powered by International A26 engines, while the HX520 and HX620 models offer the Cummins X15 engine.
OnCommand getting predictive analytics tool
On Monday the company also announced updates to OnCommand, including OnCommand Connection Live Action Plans, a feature the company says is expected to predict when a part is going to fail before it actually does.
"Today's announcements demonstrate how International Truck's innovative approach is leading the connected vehicle space," says Persio Lisboa, chief operating officer. "The innovative solutions we offer via OnCommand Connection help fleet owners and operators achieve optimum vehicle uptime while protecting their bottom line."
Navistar says OnCommand's Live Action Plans are prognostic models developed using both the company's field service intelligence and algorithms based in big data analytics. When certain adverse conditions are identified on a vehicle, OnCommand Connection would provide the customer with alerts about potential corrective actions, the potential repair, the parts needed, and the training required to make the repair. Furthermore, if the repair is performed as instructed and the vehicle is under warranty, Navistar would pay for the repair. The company expects to pilot this over the next three months, with an official launch in 2018.
"We expect to be able to tell customers that we will proactively identify problems before they happen, recommend a fix and pay for warrantable fixes…before anything fails on the truck and they experience down time," says Lisboa.
Other changes include a pre- and post-inspection tool, automated drive vehicle inspection reporting (ADVIR) capabilities that are intended to automate government-required vehicle inspection reporting and record-keeping for enhanced safety and productivity.
With these features, the company says the solution is fully integrated with other OnCommand Connection tools and services, including OnCommand Connection Telematics, Remote Diagnostics and Electronic Driver Log.
"Today's truck drivers are on the front lines of assuring that their vehicles are operating safely and efficiently," says Terry Kline, senior vice president, chief information officer. "Our Automated Driver Vehicle Inspection Reporting solution relieves drivers of much of the paperwork required in the vehicle inspection process, while assuring that best-practice inspection and reporting protocols are followed."
Finally, OnCommand also will soon feature trailer tracking software intended to provide detailed analytics and reporting for trailer management, built on the OnCommand Connection platform. GPS fleet trailer tracking helps companies keep tabs on their trailers and their cargo, so they can better maximize these assets to reach their customers and clients effectively. It also helps improve asset utilization, maintenance practices, and optimize trailer capacity, the company says.
"There are approximately three times more trailers than tractors registered in the United States," says Kline. "Information related to the trailer such as location, temperature, remaining space in trailer, tire pressure, and others are critical in making quicker more knowledgeable decisions."
He adds, "As commercial vehicles and fleet operations become increasingly more sophisticated, it's our responsibility to understand the data ecosystem and integrate with key stakeholders so our customers can maximize their uptime and see those results in their bottom line. OnCommand Connection will continue to be a game changer across the industry—and we're just getting started."