After its initial launch at the 2017 NATDA Trade Show & Convention in Indianapolis, Ind., the North American Trailer Dealers Association (NATDA) held its first online meeting for members of its inaugural NATDA Dealer Success Group on Oct. 12, 2017.
NATDA says the meeting was the first of its kind for the NATDA as it looks to continue to the success of its various Dealer Education seminars that took place during its annual trade show. Topics for the meeting included everything from mark-up to reordering, but had an overall focus on how to improve dealerships' parts departments.
"It was great to take part in the first meeting for the program," says Andy Ackerman, NATDA President. "We've placed a lot of emphasis on our dealer education programs and we're excited to see NATDA Dealer Success Groups give dealers another outlet to discover more ways to fine-tune their dealerships."
NATDA Dealer Success Groups provide a forum for dealers to discuss real solutions with top industry experts. The program, designed for minimal investment of time, travel and expense, is done almost completely online or over the phone to provide dealers advice and ideas exactly when they need it. NATDA says this program also includes the NATDA Dealership Performance Training, which offers 100s of tips, tools and templates to use in your dealership including training videos, online resources, webinars, support materials and downloads.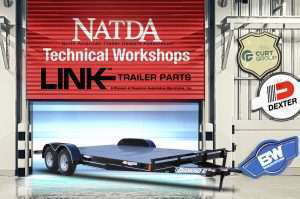 Training videos post to YouTube
The NATDA also announced this week it has posted videos from the 2017 NATDA Trade Show Technical Training and seminars on its YouTube Channel.
NATDA says the Technical Training hosted by LINK Trailer Parts provided dealers with something they could "take back to the shop" from technical experts in the industry. The seminars were sponsored by B&W Trailer Hitches, Dexter and CURT Group.