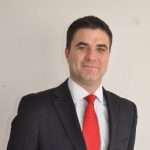 Jorge Martinez, owner of Idealease Monterrey of Monterrey, Nuevo Leon, Mexico, has been elected to serve as Vice Chairman of the Idealease Board of Directors for 2018 and 2019.
He will serve as vice chairman for two years and as chairman in 2020 and 2021. Martinez was elected to the Idealease Board of Directors in 2014 and represents the organization's shareholders in Mexico.
"Idealease is honored to have Jorge serve as the Vice Chairman of the Idealease Board in 2018," says Dan Murphy, president and CEO, Idealease, Inc. "Jorge is a successful and effective leader who is very focused on helping Idealease achieve even higher levels of performance and success. He has a keen interest in promoting educational initiatives and mentoring young entrepreneurs."
In addition to being the owner of Idealease Monterrey, Martinez is CEO of Fultra, a transportation solutions company in Mexico that offers commercial truck sales, parts and service, commercial truck leasing and rental, and parts and supplies. Prior to entering the truck industry, Jorge served as CEO of Fiat Mexico.
Martinez earned a degree in Industry Engineering at Monterrey TEC, an MBA from the Kellogg School of Management at Northwestern University, and completed the Harvard Business School Owner/President Management Program.
Martinez serves on the Board of Directors of Grupo Cuprum and Grupo Financiero Ve Por Mas. He also is a member of the Board of Via Educación, an organization dedicated to helping individuals discover their potential and improve their environment by partnering with government agencies and business sectors.