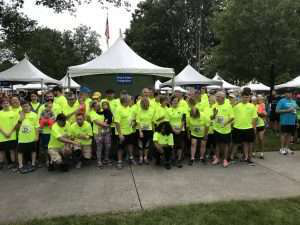 More than 3,400 runners and walkers helped to raise a record amount of money over the weekend for cancer research at Winship Cancer Institute of Emory University. The seventh annual Winship Win the Fight 5K Run/Walk, held on Saturday, October 14, brought in more than $932,000.
Peach State Truck Centers was the "Hope" sponsor of the event, the highest level of sponsorship. Peach State fielded a race team of over 75 participants.
"We set an ambitious goal this year of $1 million and our supporters did an amazing job of helping to make the 7th annual Winship 5K an extraordinary success," says Walter J. Curran, Jr., MD, executive director of Winship. "This year marks Winship's 80th anniversary and the money raised at the Winship 5K will support cancer research projects that are helping to lessen the cancer burden in the state of Georgia."
The Winship "Win the Fight 5K" allows participants to direct their tax-deductible donations to benefit specific cancer research projects based on their personal interests. Peach State Truck Centers pays the entry fee for all employees, family members and vendors who wish to participate in the yearly fundraiser. The company has been involved with every Winship 5K since its inception, thanks to the dedication of Peach State's founder, the late Tom Reynolds.
"My dad, as well as my brother Tim, had a big heart when it came to the Winship race every year," says Rick Reynolds, Peach State Truck Centers President and Dealer Principal. "We all considered being a Winship sponsor as one of the most important community contributions we've ever been involved in. This year was an emotional one not being able to walk it with Tim and my dad. But we are extremely proud to continue on their legacy by putting as much support behind the Winship Cancer Institute and the Win the Fight 5K as we can each year."
Peach State says donations will be accepted until November 30, 2017. For more information, please CLICK HERE.