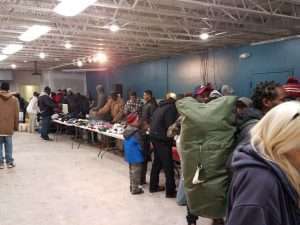 The need for a blanket drive in Atlanta was never more obvious than two Saturdays ago when snow fell in the southern city during the 11th annual Peach State Truck Centers' Blanket Drive.
Started by Peach State Technical Training Instructor Darryl Matthews as a way for Matthews and his family to give back to their community, the Blanket Drive has become a yearly celebration of giving for the entire Peach State family. Peach State says each year more and more donations are raised, and this year's 2017 Blanket Drive, held on Dec. 9, 2017, was the biggest one so far in terms of items donated.
"We are so thankful for all that you did to make this year's blanket drive a huge success," says Matthews. "We could not have blessed so many people without your donations and support."
Overall, Peach State says more than 500 items were handed out during the drive. Donations were accepted from Peach State Truck Centers' locations and various Atlanta-area churches. The total donation breakdown was as follows:
200 blankets
50 coats and jackets
90 duffle bags
Large box of socks, gloves, and hats
88 women's toiletry bags
92 men's toiletry bags
15 unisex bags
20 children's bags
Coloring books and crayons
Matthews, his family and other supporters delivered all of the donations around the city of Atlanta on Dec. 9, 2017, to those in need. Their first stop was the Safe House Shelter on Ellis Street. Inside the shelter the group was able to set the donation items out on tables for people to walk by and grab. After an hour the group moved on to the Gateway Shelter on Pryor Street, Peach State says.
"Rain, sleet or snow we will continue to serve this great need in Atlanta each year around Christmas," says Matthews. "It's a humbling experience spending time with people who are much less fortunate than you are and see how upbeat and spiritually-minded they can be, despite their tough circumstances. It's the least I can do to try and lend a hand."