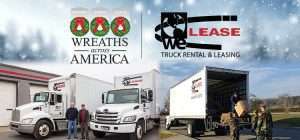 Each Dec. 16 is National Wreaths Across America Day, and the Wreaths Across America organization upholds its mission to remember, honor and teach by coordinating wreath-laying ceremonies at Arlington National Cemetery, as well as more than 1,200 locations across the U.S., at sea, and abroad. With three National Cemeteries in Knoxville, Tenn., Wreaths Across America found volunteers to help with the wreath laying ceremony.
John Fitzgibbon, a technician with Worldwide Equipment, and his father, Donald, have a personal connection to Wreaths Across America. John's younger brother, PFC Patrick Fitzgibbon, died while serving in Afghanistan several years ago. To honor his legacy, the Fitzgibbons decided, for another year, to volunteer as wreath layers for the three National Cemeteries in Knoxville. Also, Worldwide Equipment, a network of heavy-duty truck dealerships, service centers and parts stores located throughout the eastern U.S., donated two WE Lease box trucks for delivery.
Colonial Freight and Skyline Transportation provided storage for the wreaths in support of the Fitzgibbons and the Wreaths Across America program.
Worldwide Equipment says it is proud of the Fitzgibbon's and their commitment to those who paid the ultimate price for our country.