The last year was a big one for the commercial trucking industry.
Almost weekly, a huge news story would break across the wire with potential to change the marketplace. Established truck and trailer OEMs were expectedly busy, improving processes, strengthening dealer relationships and striving to develop the most fuel efficient and highest-performing tractors the trucking industry has ever seen.
Their activity wasn't alone. With vehicle electrification continuing to skyrocket in popularity, several new businesses also jumped into the trucking space, bringing spaceship-like tractor prototypes to the market with a pledge to one day take the industry away from diesel fuel.
You dealers weren't sitting on your hands, either. While the Great Dealer Consolidation we featured in January seemed to slow during the year, the dealer market remained active, with new facilities going up across North America and more and more parts and service departments signing up for OEM-sponsored advanced diagnostic and service programs.
But that's not what brought you here today. At least not to this specific article.
So without further ado, here's a look at our Big Five — Successful Dealer's five most read new equipment releases of 2017.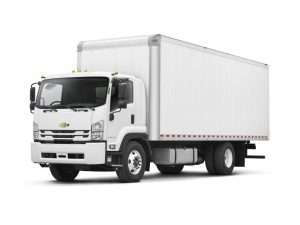 No. 5 – Chevy introduces Class 6 cabover (March)
This TMC-adjacent news from Chevy was the company's announcement that it had added a Class 6 cabover to its already established Class 3-5 offering. Built based on Isuzu's N-Series, Chevy's Class 6 cabover is expected to be available very soon.
Chevy says it is available in eight wheelbases and to accommodate bodies up to 30-ft. long, and is equipped with a standard 5.2-liter four-cylinder turbodiesel that delivers 520 lb.-ft. of torque to an Allison 2500 Series 6-speed automatic transmission with PTO.
To read the original news release, please CLICK HERE.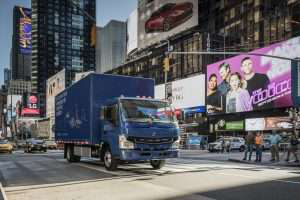 No. 4 – Mitsubishi Fuso's electric eCanter trucks make debut (September)
Daimler Trucks' subsidiary Mitsubishi Fuso makes this year's list with its new and unique eCanter trucks — the first series-produced all-electric commercial trucks in North America. First showcased in a New York City ceremony, Fuso says the eCanter is currently being delivered at a 50 trucks per-region basis in the United States.
Though priced 20 to 30 percent higher than its conventional counterpart, the Fuso FE 160 Canter, Mitsubishi Fuso CEO Jecka Glasman says added fuel savings and lower maintenance requirements can quickly offset the higher upfront vehicle cost depending on mileage and usage cycles. According to company officials, every 6,200 miles represents roughly $1,000 in savings.
To read the original news release, please CLICK HERE.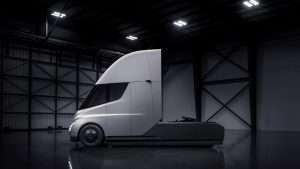 No. 3 – Tesla releases price guide for Class 8 tractor (November)
You knew Tesla would be here somewhere. Surprisingly, while the company's November unveiling of its new Class 8 truck fell just outside our top five, its follow up announcement the next week announcing pricing for the all-electric semi clocked in third on this countdown. Tesla says a 300-mile variant of its tractor will cost $150,000; the 500-mile model, $180,000; and a Founders Series will run $200,000.
Tesla also announced in November when releasing its pricing that reservation costs for the truck have increased four-fold — jumping from $5,000 to $20,000 in less than 10 days. Those wanting to reserve the Founders Series model will have to shell out $200,000 up front. Production on Tesla's tractor is slated to begin in 2019, and Founder Elon Musk says the truck is guaranteed not to break down for a million miles.
To read the original news release, please CLICK HERE.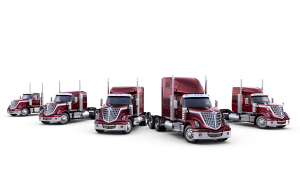 No. 2 – International debuts updated LoneStar (September)
As we teased Friday, new and improved conventional Class 8 diesel tractors will never not be news. Navistar International's September update of its flagship LoneStar tractor grabs our No. 2 spot. Among International's updates to the tractor include a single-canister aftertreatment system that is smaller, lighter and easier to service and ergonomically designed under hood service points to aid in maintenance. Many of those maintenance intervals were increased as well, the company adds.
"Now more than ever, driver retention is one of the top concerns among fleets both large and small. Therefore, enhancing the LoneStar at this time with critical driver-centric updates gives fleet operators and owners an additional tool to reward and retain drivers," said Dave Majors, vice president, Product Development at Navistar. International began taking orders for its updated LoneStar in September, and the model and its five configurations are available now.
To read the original news release, please CLICK HERE.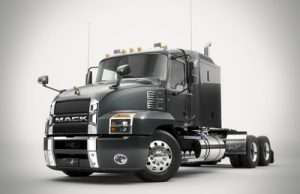 No. 1 – Mack debuts new on-highway tractor (September)
Mack Trucks earns the top spot on our 2017 countdown with its new Anthem, introduced at the OEM's dealer summit in September. According to Mack, the Anthem was engineered with an emphasis on driver comfort and productivity and is available in day cab, an all-new 48-in. flat top sleeper and an all-new 70-in. stand-up sleeper that features 35 percent more space than previous models and 27 cubic ft. of storage.
Additionally, it is available with the 13-liter Mack MP8 engine with up to 505 horsepower and 1,860 lb.-ft. of torque depending on spec. Also available as an option is Mack's 11-liter MP7 with up to 425 horsepower and 1,560 lb.-ft. of torque.
"[The Mack Anthem] is the right highway truck for North America," said Mack Vice President of Global Marketing and Brand Management John Walsh. "We are an American brand. We were born here. We were raised here, and we literally helped build this country. The name Anthem speaks to that American spirit."
To read the original news release, please CLICK HERE.