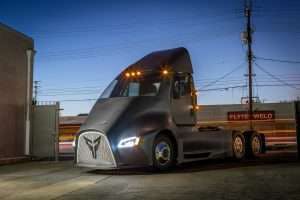 Just a few weeks ago, CCJ introduced readers to another Class 8 electric truck in development — the first non-Nikola Tesla themed product preparing for the marketplace.
Instead of the famous Serbian-American inventor, co-founders Dakota Semler and Gio Sordoni have named their startup after another famous harnesser of electricity, the Norse god and titular Chris Hemsworth character Thor.
The duo founded their business last year and hope to have Thor's ET-One electric tractor available for purchase in 2019.
As you may expect, the ET-One is a feat of modern engineering. Powered by up to 800 kWh modular battery packs, the ET-One prototype has a 300-mile range when fully loaded to 80,000 lb., the company says. And its TM4 motor — a motor used in a variety of heavy-duty applications, including buses — puts out 5,000 lb. ft. torque that can be customized based on need.
No word yet on if Mjölnir is included.
Sordoni says "Thor's vision is to address the short and medium-haul market."
Additionally, Sordoni says the batteries on ET-One are swappable, which means "when approaching over the road applications in the future, there are a few ways Thor would approach that problem. One could be partnerships with existing charging infrastructure companies. Another could be pursuing more of a swapping strategy, which would also make a lot of sense for us."
For more on Thor's ET-One, and more images of the company's prototype, please CLICK HERE.