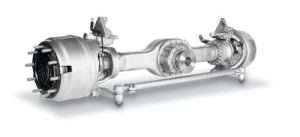 Marmon-Herrington announced Tuesday it has been chosen to supply its MT-22 front drive steer axle for Kenworth's T880 AWD 6×6 and 8×8 configurations.
The T880 is Kenworth's flagship work truck and is powered by the quality and reliability of Paccar's MX-11 and MX-13 diesel engines, which boast up to 510 horsepower and 1,850 lb.-ft. of torque. The MT-22 front drive steer axle further compliments Kenworth's T880 industry proven capabilities with a high torque, high speed, planetary front drive steer axle. Published GAWR (Gross Axle Weight Rating) for the MT-22 is 22,000 lb.
"We are excited to be part of Kenworth's T880 AWD program," says Dan Souhan, sales and marketing director for Marmon-Herrington. "The MT-22's smaller center section design allows customers significant design flexibility, while still gaining additional performance and durability benefits. As demonstrated by the MT-22's 5G high dynamic shock load capability, the MT-22 delivers the ultimate in toughness."
Marmon-Herrington says the MT-22 front drive steer axle provides the T880 with AWD capability for severe duty markets where additional traction is required. The MT-22's double reduction, planetary design allows the axle's input torque to be distributed across the entire axle as compared to single reduction axles. Additionally, the company says this torque splitting in the MT-22 allows for the use of a smaller ring and pinion, reducing the size of center section and achieving unparalleled durability.
Marmon-Herrington's MT-22 is part of the industry's only Rapid Response Program. The Rapid Response program allows Kenworth and other customers to receive axles within 30-days or less. The axles are shipped from Marmon-Herrington's Louisville, Ky., facility to Kenworth's Chillicothe assembly plant for final installation. Marmon-Herrington's Rapid Response Program includes a variety of ratios including: 4.92, 5.29, 5.38, 5.65, and 6.11.
"The Kenworth T880 is the rugged-duty, all-business work truck you can count on. The Marmon MT-22 makes this great truck even greater by adding 6×6 and 8×8 configurations," says Kurt Swihart, Kenworth marketing director. "The addition of these AWD configurations with the MT-22 axle maintains Kenworth's high standards and customer expectations. Combined with the Marmon-Herrington Rapid Response Program allows Kenworth's customers get the truck they need when they need it."